reconnection
What The Bulgarian Diaspora Wants To Know About The Economic Development And Innovation Potential In The County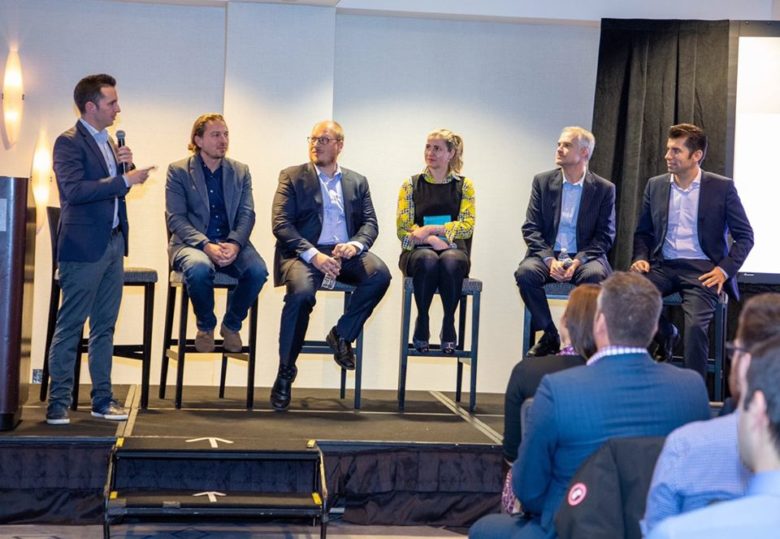 At least two million Bulgarians are living abroad, according to the latest data provided by The Bulgarian Ministry of Foreign Affairs, and having sent over €1b back to the country in 2018, turns the diaspora in the biggest foreign investor in Bulgaria. There are numerous discussions on what's the role of a diaspora in the development of a home economy.  Should professionals return to the country importing valuable know-how? Or should they stay where they are and continue sending remittances to their families? Or is there something else?
With the idea in mind to engage the Bulgarian diaspora in Western Europe and the US to contribute to the economic development of the country, several organizations started an initiative called RE:TURN. The idea of the main organizers – The Bulgarian Private Equity and Venture Capital Association (BVCA) and their main partner America for Bulgaria Foundation is simple. They want to spread the word of the recent developments of the local innovation ecosystem and ask for support in the form that Bulgarians, whenever they are, would feel comfortable participating – be it donating to NGOs that try to improve the economic environment by fighting corruption, be it investing in VC funds, or simply taking the time to mentor entrepreneurs. 
An update
After a tour throughout Europe and three cities on the East Coast of America in the past two years, last week RE:TURN also organized three events in Washington D.C., New York, and Boston. For the first time, Trending Topics as an official media partner traveled with the team to meet entrepreneurs, professionals, investors, and students, interested in the future of their home country.  
Each of the gatherings was joined by 160 people on average who listened to the presentations and panel discussions aiming to update them and change the often negative perception of the country. They got to hear about the quickly catching up to Western Europe software sector of Bulgaria, the booming automotive sector, learned the story of how the first EU financed venture capital funds were piloted in Bulgaria, which led to a thriving startup ecosystem. But aside this, the diaspora had numerous questions. How to contribute meaningfully? What are the biggest concerns for the future and challenges before the ecosystem? Does it make sense for a US-based startup co-founded by Bulgarians to fundraise and open up an office in Bulgaria?
Experiencing the events and seeing the energy firsthand, we thought it would be a good starting point for a further dialog to summarize what the diaspora cares for, and also what the answers to these first questions are. 
So what does the diaspora want to know
Please bear in mind that not all relevant facts could be squeezed in and in case you want to investigate a certain topic further, Trending Topics is a useful resource to do so. 
Q: How can the diaspora be part of the business-related investments in Bulgaria instead of only sending remittances?
A: True, remittances are the largest portion of the foreign income in the country. In fact, remittances are what usually support basic needs. But of course, further engagement is needed. Yet, one of the goals of the RE:TURN initiative is to present business related investment opportunities. On the one hand, there are investment funds like LAUNCHUB Ventures, BrightCap Ventures, Eleven Ventures, Empower Capital, Postscriptum, and others. At the same time, there are NGOs like Telerik Academy that teaches children digital and programming skills or ABLE (the Association of the Bulgarian Leaders and Entrepreneurs) who organize youth acceleration programs, to which anyone could donate through the Global Giving platform. 
Q: How can diaspora engage with the Bulgarian ecosystem in the longer term? Is there an organizational structure or platform?
A: RE:TURN is the platform and the one-stop-shop that could direct to the different initiatives in which Bulgarians can engage with – investing, mentoring, finding career opportunities, etc.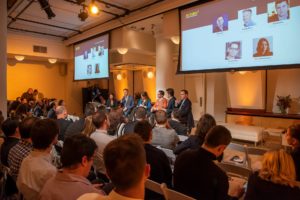 Q: Is the business working with academia and educational institutions?
A: Yes, although this is also a process in its infancy. On the one hand, there are many initiatives where companies partner with schools and universities and organize courses. For instance, the dual education project Domino partners with 60 high schools across the country and has 1700 business partners. Another interesting initiative is founded by the biotech entrepreneur Kiril Petkov Center for Applied Science and Innovation (CASI) where the final work, which required 70 PhDs is a practical innovation and there is a plan to implement it together with Bulgarian food and biotech companies. Sofia University also has just attracted the foodtech R&D of giant Unilever, which had been prior to that done at Stanford.
Q: Do the government or the cities support entrepreneurship?
A: The truth is that most of these initiatives are private and non-profit – mentoring, financing, etc. There is a number of NGOs that take this job like ABLE or Endeavor Bulgaria. In the tech business, most of the mentoring and support come in an unstructured form by more experienced entrepreneurs. 
A positive example on the municipality level is the recently started city-to-city agreement between Sofia and Vienna, which helps Bulgarian companies set a foot in Austria. Also Sofia started a pilot acceleration program.
Q: Isn't the brain drain a hurdle for the economic development of Bulgaria? 
A: It's true that emigrants are still twice as many as immigrants, shows the data of the National Statistics Institute – 31k vs 16k. In other words, we haven't yet reversed the brain drain, but there are already some positive signs of a growing number of professionals coming back to the country. 
In the eyes of investor Elvin Guri, the brain drain is not necessarily unbeneficial for societies. Especially in emerging countries, the diaspora plays a crucial role in the economic development of a country. Israel and Denmark are great examples in this regard. Kiril Petkov, however, has a different point of view – he doesn't see the brain drain as a problem as much as the lack of engagement between the diaspora and the home country and economy. In his eyes, bringing back well-educated professionals is not the only way to boost the development of a country and show some positive statistics of reversing the brain drain. On the contrary, his CASI center works with a Bulgarian professor teaching at Harvard who's been instrumental in opening doors for Bulgarian science and companies in the US. "I really hope Dr. Raina Fichorova doesn't come back because she's helping the Bulgarian business much more being in Harvard, than being in the Sofia University," he says. 
Georgi Mitov from investment fund BrightCap Ventures has another take. His fund bets on attracting companies with Bulgarian founders abroad, and also foreign companies to open up R&D in Bulgaria. According to him affordable maintenance of business and access to high-quality engineering talent are the main advantages that attract companies. All six of their portfolio companies actually operate this way – having sales in their respective markets, and growing development teams in Bulgaria. 
Q: Is something else happening outside the software sector?
A: More and more companies are doing innovation outside the IT sector – Medtech, pharma, food tech, tourism, multi-brand retail, facility management and services, consumer goods. Kiril Petkov gave as an example IPath, a New Jersey consumer electronics company invested in Plovdiv into 2000 m2 warehouse, making millions in sales and using the proximity of being in the EU, which makes it so easy to ship goods all over Europe. "The CEO who's based in New Jersey recently asked me why we are not advertising this every day – 10% tax on European business, people speaking many languages, etc. He meant there should be hundreds of such companies coming to Bulgaria. And in my opinion, we shouldn't be targeting the multibillion companies, but million-dollar businesses for which there's a good soil to grow from Bulgaria," he stated.  His own food tech and biotech company ProViotic, which is selling successfully on four continents, having a strong presence in the US and in some of the most prominent healthy lifestyle chains in New York and throughout the country is another example of well developing innovative business outside the IT sector. 
In the gaming industry, Bulgaria is by far the strongest market in Eastern Europe. Plevneliev gave the examples of global studios purchasing local companies (read more), or the former art director of Pixar – Antony Christov launching an academy for game development talent (read more).
Not least, automotive is thriving in different aspects – in terms of production of different particles, but also in terms of product development. The MBUX software systems for a model of Mercedes Benz that's going to be on the market in 2020, are developed entirely in Bulgaria within an American company called Visteon. Bosch, Coca Cola, ProSieben, Financial Times are other large brands outside the pure software sector developing core technology innovation products in Bulgaria. Two of the largest sensor producers in the world – German Festo and US Sensata, have their main production facilities in Bulgaria as well.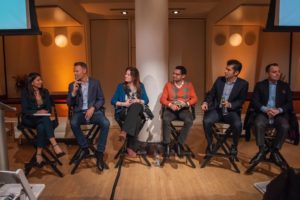 Q: What's going on outside of Sofia?
A: President Rosen Plevneliev (2012-2017) gave several examples with the second biggest city in Bulgaria – Plovdiv, as a place that has established itself as an industrial hub, and the nearby located smaller city Stara Zagora. According to him, the new factories for the years 2019-2020 are 137. Sliven and Yambol are also investment destinations for German company Kostal, opening 3500 jobs, parts for Audi are being produced in Smolyan, a British IT company is opening over 1000 jobs in Burgas. The German automotive companies Leoni and Vita Automotive opening up production in respectively Pleven and Russe. As much as Plevneliev and Chairman of BVCA Evgeni Angelov agree with the fact that business and industry are rather equally distributed across the country, they confess that in Bulgaria like in most small countries companies tend to cluster in and around the big cities. Sofia is the IT and service center of Bulgaria, Plovdiv is the industrial hub, and it's spreading further out. 

Q: Are there any investment opportunities in fintech in Bulgaria?
A: Indeed, Bulgaria ranks #1 in the CEE region by the number of fintech companies. There are several areas in which the Bulgarian fintech sector is doing well and is creating world-class products. Elvin Guri gave the example of Nexo, a company that built a webshop for cryptocurrencies and has been profitable almost since day one. However, according to Guri, cutting edge technologies need large markets and need support to make the leap, and sees the role of the diaspora as a crucial one. More relevant examples could be explored in Trending Topics' ultimate guide in the fintech ecosystem in Bulgaria. 
Q: What types of investors do Bulgarian funds attract? Where's the capital coming from?
A: Most of the investment funds in Bulgaria, but also throughout Europe are started with the solid support of the European Investment Bank and its arm – the European investment fund. Тhe private capital in the funds (between 5% and 30% depending on the fund) usually comes from high networked individuals from Bulgaria, Western Europe, and the US. Corporations are just starting to invest in VC funds. But there are already smaller and completely private funds such as Eleven Ventures. 
+++ Explore the VC and private equity environment in Bulgaria in our dedicated Investors section+++
Q: What are the major fears of Bulgarian entrepreneurs?
A: Judiciary system and corruption are, of course, an ongoing problem, the panel participants agreed. "Yet, we shouldn't be complaining, we need to support the NGOs working in this area," says Kiril Petkov. 
Another major concern is that the tech talent that Bulgaria is selling as a competitive advantage and which attracts large international companies, is not unlimited, says Stephane Gantchev from VC fund Launchub Ventures. What he sees as a solution is both attracting talents from the surrounding markets, but also continuing to develop the academies that grow tech talent. 
Q: Everyone is presenting statistics of Bulgaria being #1 by women in tech and science. But what about entrepreneurship? What's the pipeline of female entrepreneurs? How many female entrepreneurs get funded?
A: There's a certain trend to invest in teams that are not well balanced – more on the side of tech, and this correlates strongly with gender, says Veneta Andonova, an economics professor who's been exploring the data of Bulgarian funds. Kiril Petkov, the founder of biotech company ProViotic, used the example of the recently founded CASI (the Center for Applied Science), a biotech innovation center aimed at the commercialization of scientific developments. He said 60% of the scientists within the center are women and potential founders.
Q: Does it make sense for an early-stage startup that's spinning off from Harvard to move to Bulgaria and look for capital there?
A: Definitely. Currently, there's enough capital so almost everyone with a good idea can get funding, states Stephane Ganchev from LAUNCHub Ventures. His firm is currently raising a next €70m VC fund, BrightCap Ventures has around €20m of investment capacity, the most experienced fund NEVEQ has recently raised another €20m, a new €16m early-stage fund called Innovation Accelerator is also already in the market.
Local investors say the access to capital in Bulgaria is currently much easier than in the US. And for some of them, backing Bulgarian founders abroad who'd open up development in Bulgaria, is indeed part of the investment strategy. One piece of advice coming from the investors is to have distributed teams between the main market and the development center. Serial entrepreneur Vess Bakalov who's based in Boston also shares his experience of having the whole team in Bulgaria. "Just make sure to keep the culture right and you are all working in the same direction. Having people in the US is important from the standpoint to listening to your customers. 
Q: It's a working model to have a development center in Bulgaria, and sales and business development in the US. But what are you doing to help Bulgarian startups to set foot in the US?
A: The investment funds are working a lot in this direction, trying to establish connections and fundraising in the US. In addition, the Bulgaria Innovation Hub in San Francisco was launched earlier this year to support Bulgarian startups expanding in the US.
Like our content and think Trending Topics is a useful resource of information? Follow us on Facebook or Linkedin, or subscribe to our weekly newsletter. You can also support our existence by donating via Patreon.