new platform
A New Digital Guide To Bulgaria Helps People Who Want To Move To The Country With Practical Information
Half of the Bulgarians abroad consider moving back to the country, a recent survey by the NGO Tuk-Tam shows. Yet, there are too many open questions. Are there interesting career opportunities in Bulgaria? How much do I have to earn to keep the standard of living I had in the … for instance the UK? How to find an apartment? How does the healthcare system work? To put together the whole puzzle of information scattered between numerous sources one indeed needs months and sometimes also consultants. Therefore, Tuk-Tam, an organization dedicated to helping well-educated young professionals find their way back to the home country, launched a platform called Guide to Bulgaria. 
"I came back to Bulgaria around six months ago. For eight months I was facing challenge after challenge trying to do this transition. I'd call this a "death by thousand cuts" – I had to deal with challenges ranging from transporting and registering my car to the taxation system, to finding an apartment, which took me three months on its own," shares Georgi Stoyanov, currently a product manager at tech company Nexo, who decided to come back after working with GoogleX. He had the opportunity to relocate to New York but decided to come back to Bulgaria and work for the development of the local ecosystem. 
After seeing there were indeed interesting career opportunities in global tech companies in Bulgaria, the decision was not so hard. Yet, the process was not easy, because even being Bulgarian himself, he couldn't find all the information he needed to organize the transition.
"With the creation of the Guide to Bulgaria, we provide access to clearly and intuitively structured up-to-date information and support in making important decisions regarding returning to Bulgaria, as well as for temporary residence abroad related to education," said Hristo Boyadzhiev, one of the co-founders of Tuk Tam. 
A useful resource with practical information
Guide to Bulgaria is designed to be a one-stop-shop for information about life, work, education in Bulgaria. The guide provides up-to-date content about life in Bulgaria, job offers, employers' profiles, scholarships, events, etc. How to prepare for returning – the needed documents, the career opportunities, where to look for a new home, how to deal with the healthcare system – the platform provides practical information about all these and more relevant topics. 
It also offers a calculator that allows users to see what is the equivalent salary that they would need to ask for to sustain their standard of living in the respective country they are coming from. For instance: €3K net in Germany equals 2720 BGN, $5K in the US equals 3408 BGN in Bulgaria.
The results of a Tuk-Tam survey of more than 4,600 people show that over 50% of Bulgarians living abroad are considering returning to Bulgaria. And 40% of those returning thinkers have difficulty finding information related to this important decision. Hristo Boyadzhiev shared that the topics, which most concern the interviewed Bulgarians abroad are first and foremost, information about finding a job in the country, and second, answers to questions related to practical steps for moving, finding housing, arranging health insurance, etc. Information on social life, culture and sports in Bulgaria are also among the most sought after topics.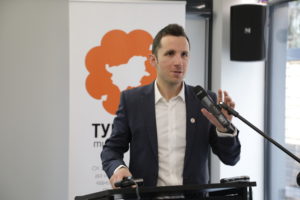 Part of the platform's roadmap is to form a community of Bulgarian's who want to stay connected, even if they are not planning to come back right now. Also, the resources will be soon adapted and translated into English so expats, and foreigners willing to relocate to Bulgaria can also benefit from this one-stop-shop.
Part of the solution
The official event for the launch of the platform was joined by the President of Bulgaria (2012-2017) Rossen Plevneliev, the Minister of Labor and Social Policy Denitsa Satcheva, and other organizations working towards attracting Bulgarian professionals from abroad back to the country.  Although the statistics of how big the diaspora actually is, vary between 1 and 3 million, and it's still not well-explored area, all stakeholders united around the thesis that engaging with the diaspora and bringing back talent is a key factor for solving the demographic problems of the country. "Bulgaria is in the top three countries with negative demographic growth outside conflict zones. So, such initiatives are crucial," stated Irina Ilieva from ABF.
Of course, one platform cannot be a solution to a demographic problem of this scale. Yet, Guide to Bulgaria presents a useful tool, part of a bigger effort that many organizations and institutions need to make. Tuk-Tam, for instance, was created 12 years ago with the idea to motivate Bulgarians either come back and build a community of returners or give scholarships to students who would go study abroad and return to apply what they learned. Alongside digital initiatives, Tuk-Tam also organizes fairs to show Bulgarians who consider coming back to Bulgaria there are opportunities for careers on a global level in the country.
In the past several years more and more organizations are joining the cause to reconnect to the diaspora and potentially attract talent back to the country. For instance, RE:TURN, an initiative that aims to bridge the Bulgarian tech and venture industry to the diaspora so that both ecosystems can mutually benefit. RE:TURN is a joint project of the Bulgarian Private Equity and Ventre Capital Association (BVCA) and America For Bulgaria Foundation (ABF), that started with a series of events in Europe and North America. The Ministry of Labor and Social Policy has recently also introduced its incentives program for people willing to return, offering them financial stimuli and bureaucracy relief.