recognition
Excellence in Innovation: The Eight Companies Awarded By The President Of Bulgaria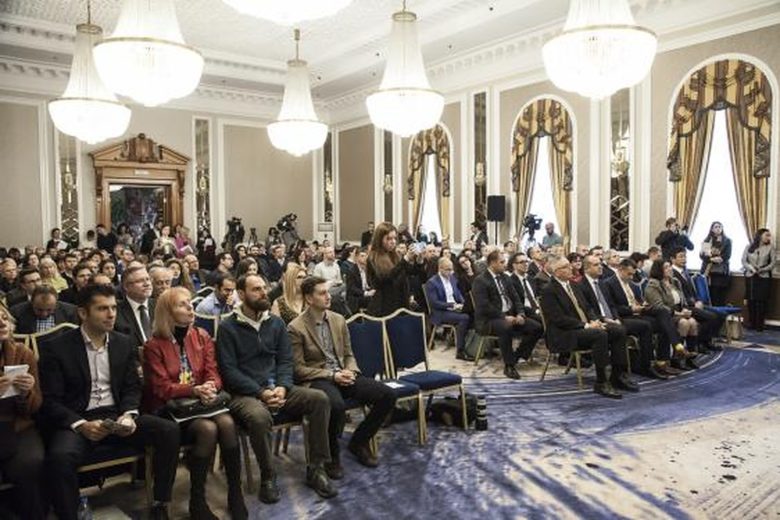 Which are the companies that had outstanding achievements in green and social innovations, found ways to manage their businesses more effectively, or supported talent development in a novel way? For the 15th consecutive year, Enterprise Europe Network and the president of Bulgaria, this year Rumen Radev award eight companies for excellence in innovation. 
"Innovation is for the smart and the brave and I am very pleased that your number is growing today. Innovation must be encouraged by the state, society and all of us, " said Rumen Radev, adding that the budget the state invests in research and development is not satisfactory. 
A total of 21 companies reached the finals of this year's national competition 'Innovative Enterprise of the Year' and eight have received the right to use the label for "Excellence in Innovation". Here are all the awarded innovators of 2020:
Innovative startup enterprise: Power Drone 
Power Drone is a data analytics company using drones for technical inspection of power lines and other types of energy infrastructure and thus helping energy companies to increase their efficiency. The company empowers utilities to improve their grid asset management by collecting quality data and analyzing it with cutting-edge software. Power Drone's software platform uses AI, machine learning and image recognition algorithms to reduce the inspection costs of its clients.
Quality of life: ProViotic
ProViotic is an innovative probiotic extracted from snowdrop flowers and grown in organic vegetable juice. The product contains the proprietary good bacteria, Lactobacillus bulgaricus, scientifically researched by Harvard Medical School scientists. With bactericidal properties against the causative agent of Helicobacter pylori ulcer, ProViotic presents an alternative to triple antibiotic therapy. Founded by entrepreneur Kiril Petkov in 2014, the company ProViotic turned into a success in the US market in under two years and was even recommended by Oprah Winfrey. 
Innovation Management: Leanplum Product Development
Leanplum Product Development in Sofia is the main R&D center of the co-founded by the Bulgarian entrepreneur Momchil Kyurkchiev Leanplum. The Bulgarian site was founded in 2014, just two years after the mobile marketing engagement startup Leanplum was officially started in the US. Today Leanplum is one of the fastest-growing mobile marketing companies in the US and already has a team of around 60 people in Sofia. The local office was awarded for its innovative organizational practices and culture. 
Innovation in support of talents: Ubitrack
Ubitrack is a performance data company developing a next-generation optical tracking system that utilizes Artificial Intelligence and Machine Learning algorithms. The product is used for sports analytics, performance improvement, and fan engagement. The company works with the youth players of two Bulgarian teams – Levski and Levski-Rakovski.
Innovation in creative industries: ZenArt
ZenArt develops a catalog of real historical, cultural and natural destinations in virtual reality using two-dimensional authentic images, turning them into realistic 3D objects and adding interactivity. The first completed project is the Belogradchik Rocks – users can take a virtual walk, shoot with Renaissance rifles, learn more about the history of the area through an audio storyteller, etc. The next projects are Olympus and Caribbean Islands.
Green Innovation: IPS
International Power Supply (IPS) was established in 1989 and specializes in the R&D and precision manufacturing of power electronics and energy conversion technologies.
Over the past three decades, IPS has delivered world-leading products and currently has a portfolio of 33 different product lines including hybrid and off-grid power systems, rectifiers, inverters, frequency converters, and turnkey outdoor power systems. Last year, a new IPS factory with an annual production capacity of about €120m is being launched in Bulgaria. The company was awarded for its autonomous hybrid power supply system for the management of renewable electricity, the first in the world to apply a modular principle to power supply. The product allows the storage of excess energy in rechargeable batteries for further use. It is operated on 7 continents, in over 60 countries, within 1500 installations, incl. in areas with no access to the power grid.
Social Innovation: Naicoms
Naicoms is founded in 2010 company that has developed a system of hardware and software products and services in the field of telemedicine – a telemedicine station; a doctor-patient online audio-video consultation program; a briefcase with wireless diagnostic devices capable of automatically storing, transferring and sharing data and more. The system is already used in 30 hospitals in Bulgaria.
Market Leadership: Ultraflex Corporation
UltraFlex, headquartered in NYC company with a Bulgarian office, has developed an innovative, digitally controlled induction technology. Their patented systems significantly reduce production downtime, manufacturing costs, and increase energy efficiency in different industries related to heat treatment of different materials. The company has a strong market presence in the US, Europe, and Asia.