STARTUPS with IMPACT
Innovation Map: Leading carbon technology startups and projects in CEE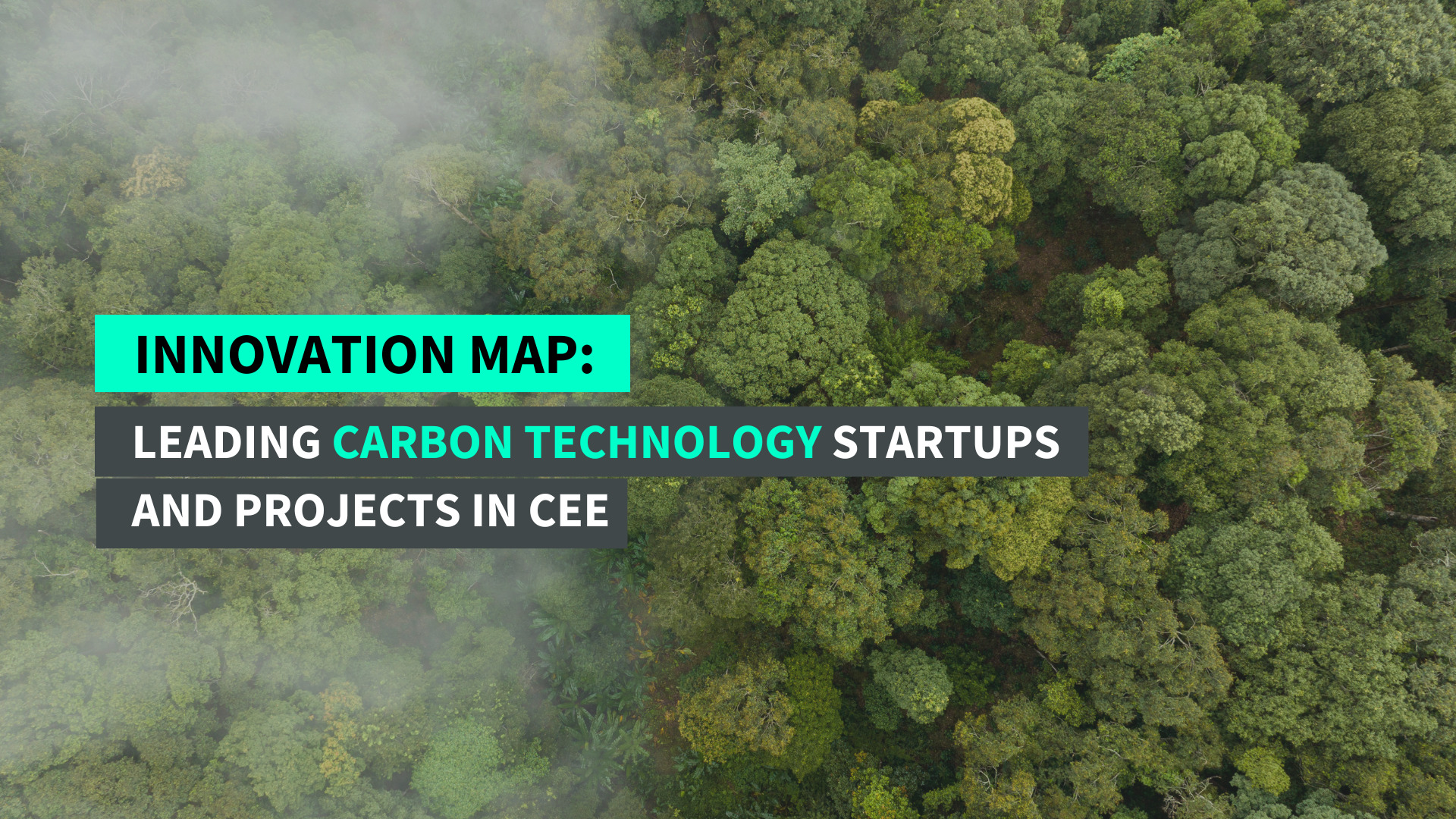 Carbon removal companies are currently experiencing increased attention as carbon capture and storage gains momentum in the climate agendas of European countries and the US. The endorsement of carbon removal technologies by the IPCC has further emphasized their role in achieving ambitious decarbonization targets.
Below, you can find a selection of recognized carbon removal companies, startups, and projects from Central and Eastern Europe.
Carbon removal startups in CEE and beyond
Location: Bulgaria, Austria
Solution: carbon marketplace
Latest news: The company participated in the 2022 Rubik Garage Accelerator.
Description: The company offers a platform for science-based carbon removal projects for European companies and citizens. Projects are selected based on 8 criteria, including integrity, additionality, verification, and location.
Location: Poland
Solution: carbon sequestration
Latest news: They are among the 20 semifinalists at the Infoshare Startup Contest 2023. Previously, they were among the 8 startups that advanced to Stage 2 in the Carbon Removal ClimaAccelerator.
Description: Green Sequest aims to remove carbon from the atmosphere by capturing it into stone through a process called enhanced rock weathering. The team is working on building an affordable and scalable technology, using a rock called serpentine, which has a great ability to capture and permanently store CO2.
Location: Ukraine
Solution: carbon capture
Latest news: In 2020, the startup raised a seed investment from the SMRK VC to create industrial modules for capturing CO2 from the open air.
Solution: The company is developing modular direct air capture technology designed for local CO2 capture. The technology relies on a mix of dry and wet CO2 capture approaches, using ion-exchange sorbent on the capture stage and electrochemistry-based regeneration on the CO₂ release stage. One of Carbominer's key advantages is that it harnesses intermittent energy from renewable sources.
Location: based in Denmark, present in 16 European markets, including The Republic of Moldova
Solution: soil carbon certification program
Latest funding: In March 2023, they raised a €46M series B from German investor HV Capital, impact fund AENU, fintech-focused Anthemis, and existing shareholders.
Description: They help farmers issue and sell third-party verified carbon certificates onto the voluntary carbon market, which are then purchased by companies wanting to offset their emissions. Farmers can also use the digital platform to track, validate, and plan for improvements along their journey to reduce CO2 emissions and storing it within the soil.
Location: Austria
Solution: carbon removal
Latest funding: At the beginning of 2023, the startup raised €2.75M in a round led by ICL from ICL Planet Startup Hub. So far, they raised $4.3M.
Description: Arkeon has developed a fermentation bioprocess that captures and converts carbon dioxide into functional and carbon-negative ingredients for food, namely proteinogenic amino acids. To do so, they harness the power of archaea, an ancient microbe part of the microbiota of all organisms.
Location: Austria
Solution: carbon marketplace
Description: The company works with forest owners, carbon offsetters, and public authorities to unlock the carbon capture potential of forests. Companies can purchase carbon credits to offset their emissions while supporting regional forest climate protection projects.
Location: Israel
Solution: carbon capture
Latest news: The startup won the 2022 New Energy Challenge Dutch competition organized by Rockstart, Shell, Unknown Group, and YES!Delft.
Description: The RepAir Direct Air Capture Solution has developed an electrochemical device that uses electricity and a selective membrane to separate CO2 from the air. According to the company, the solution has the advantage of requiring less energy consumption than other technologies, being modular and easily scalable, and requiring no heat or water.
Startups: The investment landscape in Europe is increasingly drying up
Other carbon capture and storage projects in CEE
Several carbon captures, storage, and utilization research and demonstration projects have taken place in CEE countries, often financed by industry or structural funds, and several of which have been abandoned or not transparently reported. Below we present a few of the more recent projects.
(subsidiary of HeidelbergCement)
Location: Bulgaria
Solution: carbon capture and storage
Latest news: They recently received €190 million from the EU's Innovation Fund, to turn it into a CCUS cluster for Bulgaria and the border regions in Romania and Greece.
Description: The company is working on the first full-chain carbon capture and storage project in the Balkans. They aim to capture carbon dioxide from operations and store it permanently in the depleted Galata offshore gas field under the Black Sea.
Note: HeidelbergCement has also deployed or planned carbon removal pilot projects in the Czech Republic and Poland.
Location: Croatia
Solution: carbon capture and storage
Description: It operates several carbon capture and storage projects including, since 2014, the CO2-EOR project at Ivanić and Žutica oil fields. The project captures 0.56 Mt CO2 per year from the Molve natural gas processing plant and pipes it to oil fields. The company also operates the iCORD project, aimed to capture approximately 1 metric ton of CO2 per year from several locations in Central Croatia (including a fertilizer plant and a natural gas processing station) and inject it into the oil field of the Pannonia Basis. It is planned to start by 2025.
Read more:
Sustainability investment: Where profitability meets sustainable goals, with Sparking Capital VC fund
(Organisation)
Location: Poland
Solution: carbon utilization
Description: The IChPW developed an innovative method of capturing, concentrating, and purifying CO2 by reusing it in sodium carbonate production. The technology was implemented by CIECH, a Polish leading chemical producer, in a production plant in Inowrocław, resulting in the reduction of CO2 emissions by at least 5K tonnes per year.
Secure lithium reserves? EU launches raw materials deal with Chile
via The Recursive