REPORT
Mapping out AgriTech in Romania: Which startups shape the industry?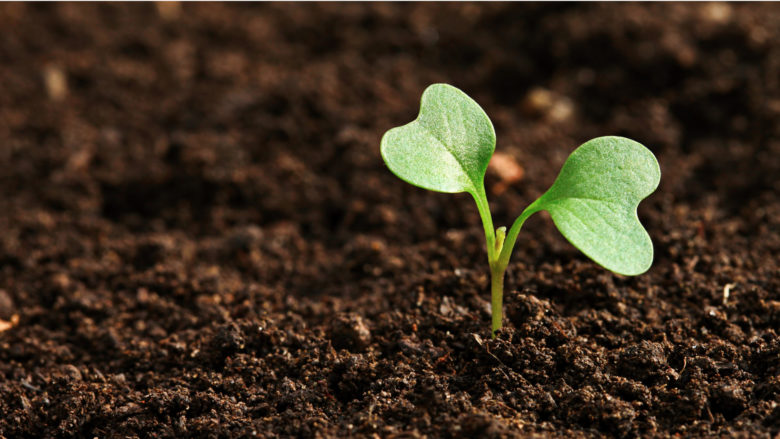 The critical need for agricultural innovation and technology, especially in the context of climate change and the pandemic crisis, is high on the agendas of local and international institutions and organizations.
The Agrifood Innovation Summit 2022 brought together representatives of the local and regional ecosystem and public institutions to discover the trends shaping the future of agrifood. The conference also included a discussion on greenhouse gas management in agriculture and the launch of the 2022 edition of the local agritech and foodtech ecosystem mapping.
Romanian agrifood tech startups raise $4m funding in two years
Agrifood Tech Startups Overview 2022
The Agrifood Tech Startups Overview for 2022 maps out the local agritech and foodtech ecosystem in incipient stages, both in terms of the number of startups and the support system for them, through targeted local programs, dedicated investment funds, etc., but also growing initiatives and interest in innovation across Europe.
Just for instance, in the period 2018-2021, a total of 857 funding rounds in agritech and agrifood have been closed in Europe, reaching a worth of $4.5 billion.
By presenting the startups, businesses, and initiatives in the field of agritech, the overview aims to create opportunities for collaboration and support among the different parties. This would to general growth and improvement of products and customer needs.
Balkan foodtech: spray that extends shelf-life, pharma food, and online honey
"We at EIT Food Hub Romania aim to connect representatives of the local and regional ecosystem and create contexts for them to collaborate and share their expertise. The second edition of the Agrifood Innovation Summit is one of these occasions and the moment when we launch along with our partners a new edition of the mapping of the local agritech and foodtech ecosystem – a valuable resource for all professionals in the field or in related areas", says Georgiana Ion, Programs Manager Impact Hub Bucharest and EIT Food Hub national representative.
Prepared by Impact Hub Bucharest and Activize.Tech, in partnership with EIT Food (a body of the European Union) and Microsoft, the report aims to highlight also the significant potential of Romania in terms of developing successful agritech innovations.
"Locally, the level of digitalization is relatively limited and far from the potential that could be brought in this field by using collaborative solutions, artificial intelligence, or predictive solutions. The way Microsoft Romania is involved and actively supports digitalization in agriculture is through investments in developing digital competencies, supporting entrepreneurs in serving farmers' and farm operators' needs, and by also promoting tech solutions that lead to a rise in productivity and economic efficiency in the sector", says Andreea Bulisache, Chief National Technology Officer, Microsoft Romania. 
Romanian Agri-Tech startup OGOR helps farmers with satellite images analysis
Key needs: Digitalization, sustainability, inclusion
Besides an overview of some of the most prominent EU policies for agriculture, the report also includes a number of insights from local entrepreneurs and startup founders developing solutions for the agritech and foodtech sectors. 
In terms of needs and opportunities, Romanian entrepreneurs point out the need for accelerated digitalization and automation, along with the adoption of sustainable practices in agriculture. They also emphasize the importance of the role of authorities in facilitating the relationship between startups and farmers. In addition, there is also an urgent need for granular and real-time data related to domestic production in agriculture, so that both farmers and tech startup founders can have access to comprehensive information to guide them. 
Founders and entrepreneurs from Romania are now focusing on conducting interviews with future customers so that they can understand their needs as accurately and completely as possible or map out possible barriers in the adoption of that solution – a step more important as the speed of adoption is low in our country.
Тhe Biggest Agriculture Retailer in Romania to Invest €50k in Innovative Agritech Solutions
Five trends in the Romanian agriculture 
Among the main trends highlighted by the creators of the report is the need for a closer connection between local producers and consumers. The COVID-19 pandemic led to a prominent interest in buying food from local producers and farmers. As a result, various apps, platforms, and digital solutions across Europe tried to fill the gap and connect local producers with potential clients through e-grocery solutions. With just a click, people were able to order fresh groceries and receive the at the door within hours. 
According to "The State of European Food tech 2021" (Five Seasons Ventures), due to the changes in consumer behavior that Covid brought, it is now clear that
e-grocery ($2.1 trillion) is becoming bigger than food delivery market ($0.6 trillion).
The digital solutions did not limit only to customer-provider communications. The use of IoT in agriculture, with software and hardware devices that prevent and minimize waste, is increasing in importance alongside precision farming, which uses data-based technologies, remote sensing, and the internet to manage crops and reduce fertilizer, pesticide, and water use.
The Romanian startup OGOR is a great example of such a solution. With the OGOR web and mobile application, farmers could easily track what impact different factors have on their fields and production. By collecting data from satellite images, the OGOR app enables farmers to identify precisely where the crop is most affected by looking at components such as sowing date, harvest date, hybrid, and work performed.
Biotechnology, with its important role in increasing yields and caring for and protecting crops, but also nutrition and wellbeing, with a concern for the role of nutrition in maintaining a healthy lifestyle and an increased interest in organically grown products, are also on the list of the key trends this year.
Two Rising Stars in the Romanian Food Tech Ecosystem: Yummdiet and Peelhy
50 startups that are gamechangers in the agritech field
The mapping in the Romanian Agrifood Tech Startups Overview Report 2022 includes a macro analysis of the agrifood sector in Europe and provides investment data, local trends, a map of over 50 startups innovating in the field, a presentation of sub-vertical initiatives, and insights from local representatives. 
Generally, the report looks at 6 different categories of agrifood and agritech:
Digital farms – farm management, sensing, indoor farming
Intelligent machines – mechanization and robots
Supply chain and food safety – traceability, logistics, chain planning
Processing and manufacturing – real-time access and factories of the future
Product innovation – geno- and phenotyping, simulations
Risk management – risk exposure, loan, and claim disbursement
Respectively, the startups mapped out in the report are also related to these categories. Here are some of the showcased projects (alphabetically listed):
AgriCloud can monitor fields and crops using IoT technology. The software application allows real-time analysis of the crop and sends a large variety of data to any screen.
Agrobazar is the first innovative project developed by Chromosome Dynamics, with the role of providing inputs to farmers and agricultural enthusiasts.
Apiary Book's mission is to help beekeepers from around the world to make better-informed decisions by providing a complete solution for the management of apiaries, monitoring of beehives, and data analysis of bee colonies and environmental factors affecting their health.
bonapp.eco helps businesses reduce food waste, by connecting users with local retailers, including grocery stores, restaurants, shops, gas stations, bakeries, coffee shops, hotels, etc. Through the app, users can purchase products approaching their expiration date, at a 40% to 80% discount.
Breed XY provides a flexible and standard-compliant, full solution for breed societies for performing breeding book management, performance testing, and genetic evaluation.
CBNagro.tech is an IoT product that mixes hardware with software in order to help silo and warehouses owners get more profitable, avoiding silage and quality loss of their products.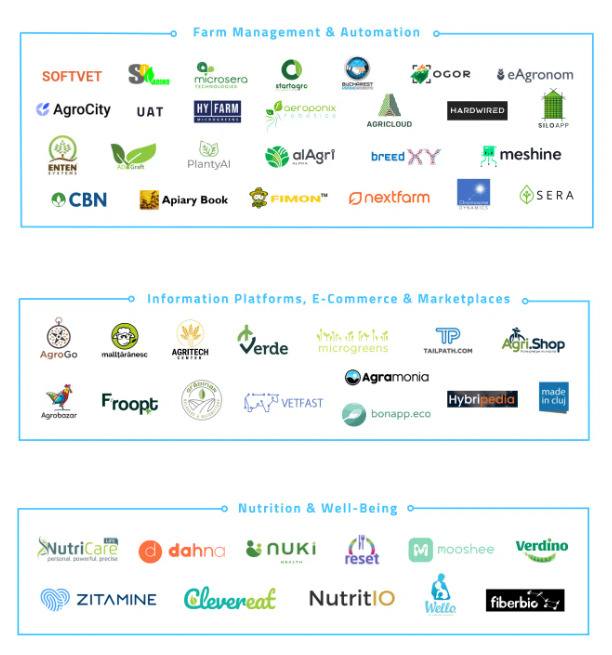 Dahna is a diet application that helps you keep your heart healthy every day and reduces the risk of cardiovascular disease created with the expertise of cardiologists and advised by a nutritionist.
Fimon is a precision farming startup, which helps farmers with a disease, pest, and weather alerts on their mobile phones for increased crop health.
Microgreens Romania is the first local producer of microplants in Romania. If before the pandemic the products were available mainly to HoReCa, now a shop is available and the end customer can order directly at home various packages with microplants or even subscriptions.
NutriCare.Life is a digital health platform that leverages human individuality to drive nutrition strategies that prevent diseases, optimize health, and encourage a sustainable diet and proper nutrition supplementation.
OGOR is a monitoring tool that helps farmers control the status of their crops and understand the consequences of their agricultural practices, based on historical and up-to-date vegetation maps, processed from Copernicus satellite data.
TailPath is a track & trace system for food chains that enables food safety and prevents counterfeiting.
Romanian Apiary Book raises €200K to Develop a Hive Monitoring System to Track Bee Health
The full report can be downloaded from the Impact Hub Bucharest website and the Activize website. There you can find out more about the agricultural opportunities opened by EIT Food Hub Romania that are available to entrepreneurs and local representatives in the agrifood sector.