PlASTIC-FREE FUTURE
New opportunities and issues after the end of single-use plastics in the EU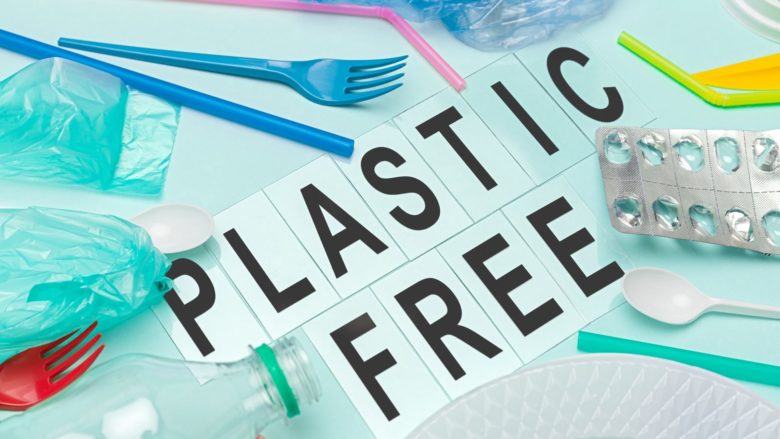 Plastic bags, straws, disposable plastic cutlery, and disposable masks – we are so used to them that it is difficult to imagine how the European Union will be able to implement the recently adopted directive ending the use of single-use plastic products. Disposable cutlery, plates, straws, stirrers, plastic handles for ear sticks, balloon sticks, sanitary ware (cotton bud sticks, cutlery, plates, straws and stirrers, balloons and sticks for balloons, food containers, cups, etc) are prohibited. Traders are obliged to switch to the sale of such products to more recyclable materials. Retailers who have purchased and stored disposable plastic products in their warehouses can use them until they are exhausted.
Two questions need to be answered:
How much will it cost businesses to cope with the transition from disposable plastics to bio and other alternatives?

How will the market for alternative materials and products, which have existed and progressed for years, develop?
There are several possibilities.
The impact of COVID-19 – Masks all over the place
86% of beach waste in the EU is disposable plastic products, and particles of it are also found in marine life. According to the EEA briefing 'Impacts of COVID-19 on single-use plastic in Europe's environment single-use plastic' from July 2021, the COVID-19 situation has led to an increase in the use of plastic products. Of course, this applies mainly to masks, but not only. The EU's domestic production of plastic packaging decreased rapidly during the first months of the pandemic and then bounced back by October 2020 when restrictions were lifted in many countries. During the lockdowns, restaurants shifted to take-away and deliveries, increasing the use of single-use plastic food containers. However, the same measures may have reduced overall sales of on-the-go snacks, reducing the need for plastic for that purpose. Therefore, there is no clear answer to the question of whether we use more or less disposable plastic, but the challenge of using residual quantities wisely and allowing enough alternatives to enter remains.
A game of Monopoly
20 companies produce 50% of the world's disposable plastic, according to a recent study by the Minderoo Foundation – Plastic Waste Makers Index. According to data today, single-use plastics account for over a third of plastics produced every year, with 98% manufactured from fossil fuels. Unsurprisingly, single-use plastics also account for the majority of plastic thrown away the world over: more than 130 million metric tons in 2019. And if growth in single-use plastic production continues at current rates, they could account for five to 10% of the world's greenhouse gas emissions by 2050.
In the top five manufacturing companies, banks with stakes in such companies and investors are business representatives in the US and Asia, such as ExxonMobil, Dow, and Sinopec, Indorama Ventures, Saudi Aramco, PetroChina, There are no European companies among them, but the countries of Southeast Europe are among their largest markets, as well as the most common destinations for disposal of this type of waste – Romania, Bulgaria, Turkey, Serbia, for example. Therefore, Turkey has announced its intention to ban the import of polyethylene plastic waste. But these are not the only challenges under Southeast European countries. 
READ MORE >>> Takeaway packaging accounts for 44% of all plastic waste in the ocean <<<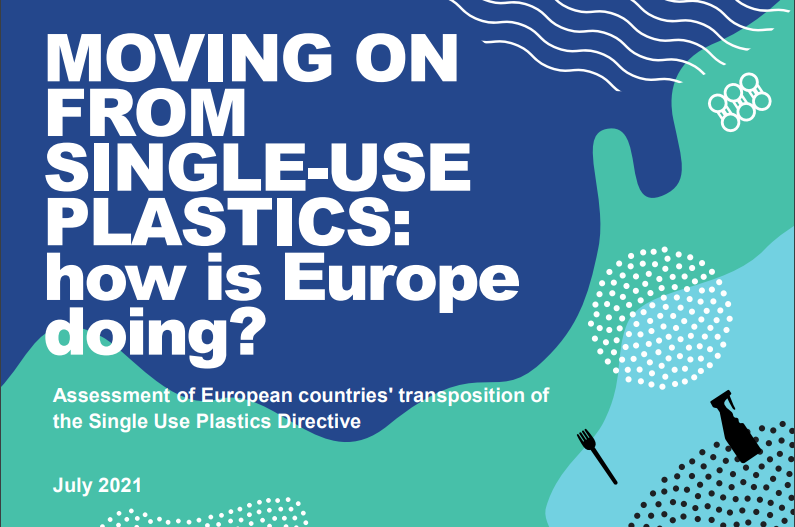 Fragmentation of the market
Eco-activists and representatives of the business related to the production of products from plastics, argue about the effectiveness of the measures but agree on one thing: due to the different levels of the actual and planned implementation of the directive in the Member States, neither traditionalists nor producers of eco-alternatives can count on clarity in the market in which they operate. 
The Single-Use Plastic Implementation Assessment evaluates top performers and Member States lagging behind in implementing the mandatory EU measures to curb plastic pollution. Estonia, France, Greece, and Sweden are examples of countries on a strong track for the implementation of the Directive, while Bulgaria, Romania, the Czech Republic, Poland, and Slovakia are just some of the many Member States that need to urgently scale up their efforts. Hungary, Slovenia, and Croatia are in the yellow zone, which means that only partially transposed the measures of the Directive, and for which the level of ambition remains average overall.
In short, this means that in a grace period for the full implementation of the measures, two different approaches to the problem collide and this will create unfair competition. 
Therefore, PlasticsEurope – the European professional organization of plastic producers, with more than 100 member companies, called on the EC not to allow market fragmentation, citing the example that some countries will remain with the target of 30% of recycled content in plastic drinking bottles by 2030, and others will set bolder goals. The result could be that some manufacturers might have to produce different products for different countries, which would not be economically viable, the organization said. 
The organization also cites the first data on the production and demand of plastics in the world and in the EU in 2020. Worldwide plastics production reached about 367 million tons, a slight decrease of 0.3% compared to 2019. China and North America increase or maintain production rates, due to higher consumption, and in Europe production decreased by more than 5% compared to 2019 to 55 million tons to 15% market share in 2020. The decrease in production is due to the change in consumption in two sectors: packaging and automotive production.
Growth in the market for eco-alternatives
In March 2021, Reportlinker.com presented the report "Plastic Alternative Packaging Global Market Report 2021: COVID-19 Impact And Recovery". The report reveals that the market for plastic packaging alternatives is estimated at $ 61.23 billion (EUR 51.89 bln) in 2020 and is expected to reach $ 71.08 billion (EUR 60.23 bln) this year. 
North America is the largest market for eco-friendly solutions, according to this study, but others cite Europe as the largest and most competitive market for biodegradable products, according to data from 2019. According to "Biodegradable Plastic Market by Biodegradable Plastic Type (Polylactic Acid [PLA ], Polybutylene Adipate Terephthalate [PBAT], Polybutylene Succinate [PBS], Polyhydroxyalkanoates [PHA], Starch Blends, and Others), and Biodegradable Plastic Application (Pa), the main players in the plastic alternative packaging market are Amcor Limited, Tetra Pak, Sealed Air Corporation, Plastic Suppliers Inc., Kruger Inc., Mondi, International Paper Company, Smurfit Kappa Group PLC, DS Smith PLC, and Klabin SA. In the past years, the market in Southeast Europe is developing and is far from lacking competitive offers.
READ MORE >>> CleanTech: Serbian Startup Harnesses IoT, AI to Reduce Air Pollution Through Innovative Parking System <<<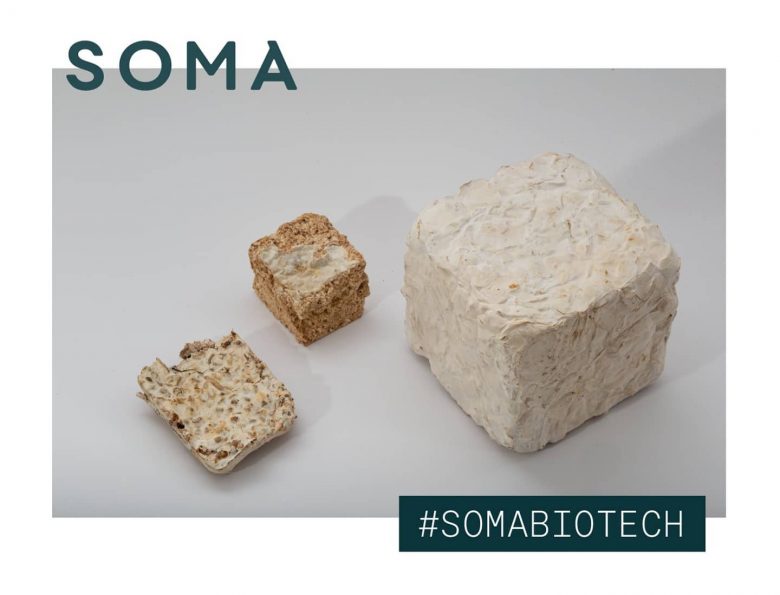 What is new on the horizon?

Zero Wave – Bulgaria
Blazhka Dimitrova is a Bulgarian entrepreneur and environmental activist who is working on the idea of ​​a zero-waste lifestyle in several areas. She opened the first zero-waste restaurant in Bulgaria and is part of the team behind the idea of ​​cutlery and disposable utensils. Together with Deminir Dimitrov, Founder and CEO of Zero Wave, they work on technology for the production of biodegradable containers made of malt – the best product of a beer. Their company Zero Wave received an investment of BGN 20,000 (EUR 10.220) by Rіnker Youth Challenge rartnerѕhіr program in 2019. 
READ MORE >>> Bulgarian Zero Waste Startup Difold Reaches €100k With Its Crowdfunding Campaign And Is About To Bring Reusable Origami Bottles Into Mass Production <<<
Soma Bioworks – Serbia
Soma Bioworks is a Serbian startup that works in an already known direction – the production of packaging materials based on mushrooms or Biosporin. Mushrooms are already a known alternative to styrofoam (polystyrene). Biosporin is completely degraded and produced from food scraps and byproducts. Nikola Stanojević, the company's co-founder, told Emerging Europe: "In most cases, changing the business model, redesigning, taking a new market approach, or innovating in logistics contribute a lot more than disruptive new technologies ".
READ MORE >>> Sustainability Ventures In Bulgaria To Keep An Eye On <<<
Packaging of tomatoes from Slovenia
A few days ago came the news that the Ljubljana-based The Pulp and Paper Institute has developed and presented corrugated cardboard made of papers whose raw material is tomato stems. Tomato stems were locally sourced and represent an agro residue that has been processed into liner and fluting papers suitable for incorporation into the corrugated boards. Corrugated cardboard was also made in Slovenia in test production and is completely recyclable, biodegradable, and safe for food contact. The institute plans to develop its own CIP brand of papers and boards.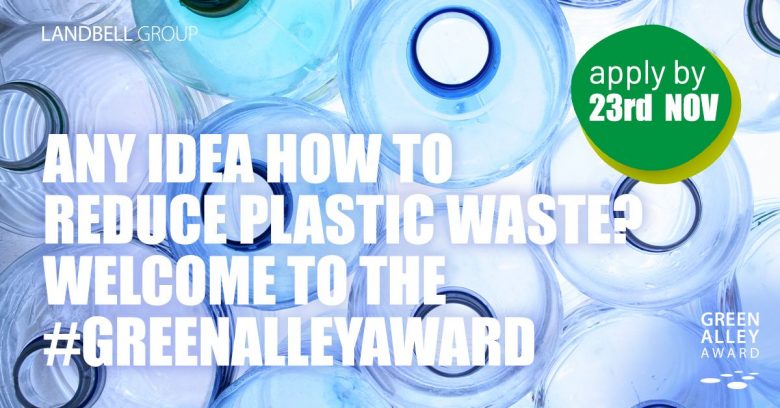 Eco-business opportunities 
Several funds and accelerator programs in Southeast Europe are ready to support startup projects to develop alternatives to disposable plastics.
ClimAccelerator Black Sea
ClimAccelerator Black Sea is a program to accelerate and fund eco-innovation solutions that contribute to environmental sustainability and the reduction of carbon dioxide emissions into the atmosphere. The program is implemented by a Romania-Bulgaria consortium, with a leading partner Impact Hub Bucharest and in partnership with Climate Vertical and Innovation Starter Accelerator. ClimAccelerator Black Sea is funded by the public-private innovation partnership EIT Climate-KIC of the European Union. 
READ MORE >>>  Veolia Partners with Accelerator Innovation Starter To Support Circular Economy Startups  <<<
Cleantech Bulgaria
Cleantech Bulgaria develops programs for entrepreneurs in the field of clean technologies, innovation, and sustainable development. We connect SMEs and large enterprises, experts, NGOs, entrepreneurs, government, and international institutions – which is the mission of the organization. Clean Tech for Europe is another organization that leads projects on a European level.
The European Commission also presents a detailed calendar of events and opportunities for the exchange of experience and partnerships in the field of the circular economy and the search for eco-alternatives to plastics. The most recent event is The 2nd International Conference on Circular Packaging that took place on 9-10 September in Slovenia. 
READ MORE >>> Go Green, Pitch, Accelerate: The Three Open Programs For Early-Stage Cleantech Startups In Bulgaria <<<
Green Alley Award 
The Green Alley Award of the Landbell Group offers a chance to network and prize money of € 25,000 to companies in the field of the circular economy. Only startups no older than 5 years that are located in Europe can apply for the Green Alley Award. Out of all applicants, a total of six startups will be invited to our Grand Finale in Berlin. Five of the six finalists are selected by a committee, the sixth is nominated by a public vote. You can apply for the program from September 14 to November 23, 2022. 
READ MORE >>> JA's Gen-E 2021 brings together 180 startups from across Europe <<<