Virtual Reality
Orange Partners with HTC-backed Bulgarian Startup QuarkVR to Offer VR Experiences for Corporates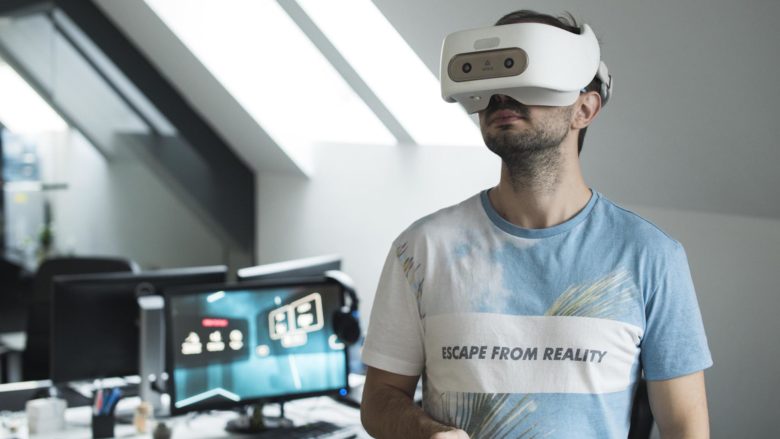 There are some news for those, including the author of this article, who perceived virtual reality as something for gamers that's not applicable in the real world. The French telecom Orange has partnered with the Bulgarian startup QuarkVR and plans to launch virtual reality products such as VR calls, meetings and trainings for corporate clients.  
"It might be surprising but VR is a desired solution for sectors such as automotive, architecture, avio engineering, esports and even education and corporate trainings", Krasimir Nikolov, co-founder and CEO of Quark VR, told Trending Topics. The partnership with Orange will allow the company to continue spreading the word of corporate applications of VR in Europe.
From gaming to the real big game
QuarkVR was founded in 2014 by Krasimir Nikolov and Georgi Georgiev. While trying to make their own Counter Strike experience more immersive with a developer headset kit, they found out that this hobby tech development might turn into a business. The main product of QuarkVR is a software solution that allows content to be streamed flawlessly on wireless VR headsets. "We first started streaming from a computer to smartphone, told some people around us, saw that there was interest and decided to develop the tech more dedicatedly", Krisimir Nikolov told Trending Topics how it all started.
The most important about VR is the speed of the streaming, because the whole virtual environment needs to react to the physical reality and movements of the one wearing the headset. QuarkVR's software allows precision of up to 2 milliseconds by compressing the streamed content and it's capable of streaming to several simultaneous users in the same environment with minimal latency.
At the very beginning Nikolov and Georgiev were targeting developers who would use their software as a tool to build different VR products for untethered headsets. With that product they got their first funding from the Bulgarian fund LAUNCHub Ventures. However, their second investor Vassil Terziev of Telerik, advised them to look for clients outside the developers' community. So they switched to consumers, failed fast and at the end of the day decided to go for enterprise clients.  
Backed by HTC
Meanwhile QuarkVR's technology has evolved and supported several different headsets of different brands including HTC. The Taiwanese company was impressed by the technology and last year invited Nikolov and Georgiev to HTC Vive, their corporate accelerator in San Francisco, alongside with 25 other AR and VR companies from all over the world. HTC also backed Quark VR with €120K. The investments in the company already amount for USD 400K. Unlike other innovators and startups in the VR business, Quark VR are hardware-agnostic and focus on software, and software only, led by the popular philosophy that software would eat the world. Content is not part of Quark VR's team of six game.
From gaming to education
"It does not matter if it is applied in education, gaming, architecture, construction, engineering or simply at a business training level,  the VR will enable us to get involved and to experience not simply to watch", Rumen Iliev, partner at Launchub, the major investor, told Trending Topics.  Indeed virtual reality has a very broad spectrum of applications beyond gaming – education, surgery, real estate, retail and even corporate training and conference calls. The last is exactly what Orange's clients will be able to purchase thanks to the partnership.
"It's very different across markets – in Europe for instance the most demand for VR is in aviation and automotive, in Asia, on the other hand, education is growing rapidly. On the US market, where most of the VR early adopters are, companies from almost any industry are interested in the technology", explained Nikolov. Quark VR is targeting a market of USD 2 billion, he added. The main target clients are telecommunication companies, enterprises and OEMs (firms that produce equipment and parts that are marketed by other companies).  
What's next?
Virtual reality is a hot topic now. According to a Techcrunch analysis there are at least 217 startups developing different products in services in virtual and augmented reality environment that were funded in 2017. A recent report of the platform Venture Scanner shows 12 categories of VR startups globally and a total amount of 1038 players in the segment. The market seems to be very competitive.  "We already have material for at least seven patents", said Nikolov, who is already working on a new level of cloud based streaming technology. The Bulgarian QuarkVR is already looking towards patents and a new funding round of USD 1 million.