Open Call
Science with a Future: America for Bulgaria foundation to fund local robotics, AI science projects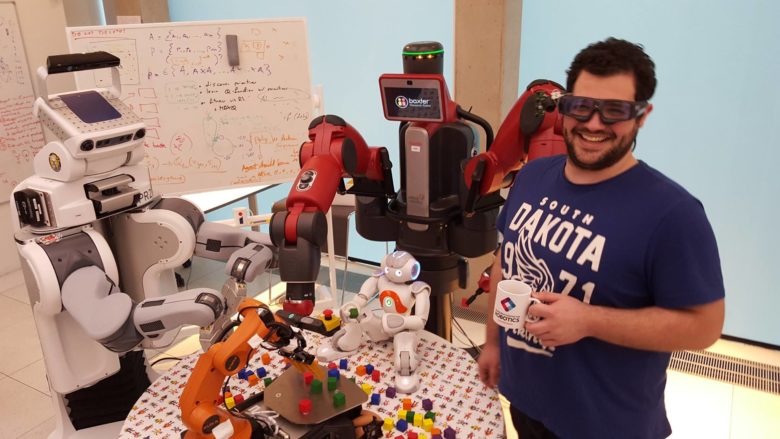 ""Build something people want!". This is what Dr. Svetlin Penkov*, member of the jury at this year's "Science with a Future", has to say to all enthusiasts who are joining the competition. The open call by the America for Bulgaria foundation is looking for young researchers, scientists and engineers with early-stage projects in the field of applied robotics, AI, and innovative technologies.
"I'd love to see projects where state of the art AI and machine learning methods are taken out of the box and applied in interesting and unusual ways to real and important problems," Penkov told Trending Topics SEE. According to him, there are "two fields which I believe will go through their own Cambrian explosion due to new applications of AI. These are software engineering and biotech".
Who can apply
Candidates should be aged 16-40 and should apply no later than April 15th with early-stage projects that resolve existing challenges in our society and should have potential to be implemented in practice.
"Science is meant to help the humankind," said Penkov, insisting that "every scientist must constantly be trying to take their work out of the lab and into the real world." "The same way you invent something through trial and error guided by data driven reasoning you can also address the problem of building a sustainable business," he added.
+++Bulgarian Success Stories In Robotics For 2019: €500m In Revenue And 24 Companies Developing Autonomous Systems+++
The competition welcomes both individual candidates, groups of experts, and startups from all over Bulgaria where at least one of the founders is aged under 40.
Projects should have successfully passed at least their second technological stage (formulated technical concept) in line with the Technology Readiness Levels methodology, and should have started working on their third stage – a proof of concept in experimental environment.
Possible fields that will be financed include big data, quantum computing, blockchain, cryptography, cybersecurity, IoT and smart devices, including wearable electronics, smart home and smart system systems, healthtech and greentech, agritech, etc.
EUR 2,500-7,500 – how far can it go?
The amount of financing will range from BGN 5,000 to BGB 15,000 (EUR 2,500-7,500) and the projects should be completed within 18 months from signing the grant agreement. Candidates are not required to make their own contribution but are encouraged to do so. So, how far can this money go?
"I think this amount of money is more than enough to get access to your first server, prepare a nice website and launch your model into the world even if it's far from being perfect," said Penkov. "At the end of the experiment it will be clear if the idea will be a total success or what aspects of it will need to be changed," he added.
"What if the next big breakthrough in AI comes from one of the participants? I don't want to miss it," said Penkov.
+++The Mapping of the Bulgarian Artificial Intelligence Ecosystem Is Starting: Call for Local AI Companies+++
*Dr. Svetlin Penkov works at the intersection of artificial intelligence and robotics. He is chair of AI Cluster Bulgaria and the founder of Sciro Research – a team of world-class AI & Robotics specialists researching, developing and deploying state-of-the-art AI systems. Before that, he did his PhD at the University of Edinburgh and was a Research Scientist & Tech Lead at FiveAI, the biggest autonomous vehicles start up in the UK. He has been actively involved in the entire process of bringing state of the art research into production code on the fleet of vehicles operating in London.