#SAVETHEDATE
Trending Events Weekly Calendar: What you shouldn't miss this week!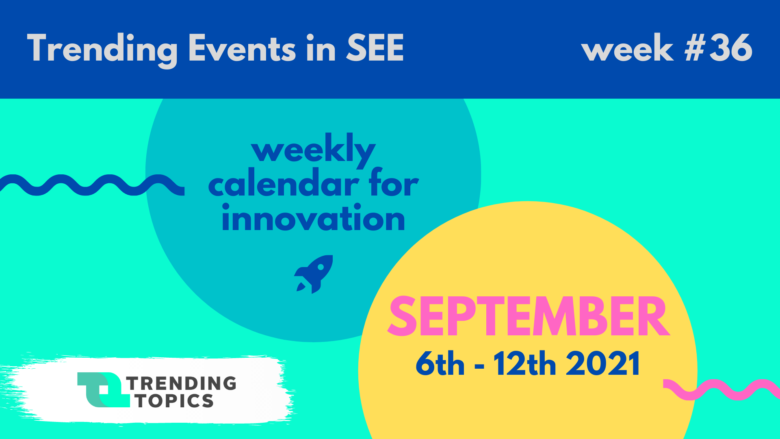 This is our list of all major events and open calls from the world of startup, innovation, and all things trending in the week of September 6th – September 12th, 2021. Save the dates!
7 – 8 September 2021
Infobip Shift Conference (by Infobip)
Infobip Shift Conference is a 2-day multistage hybrid conference dedicated to people passionate about software, continuing the tradition of delivering interactive, engaging, and exciting content. Expect multiple tracks, learn from extraordinary minds, engage in virtual experiences, prospect from exhibit hall, and expand your network on afterparties.
More information HERE
8 September 2021
E-workshop: innovation for grand societal challenges (by Interreg Europe)
Policy Learning Platform is hosting an online thematic workshop on innovation for grand societal challenges for participants to to discuss and share their experience on promoting innovation related to health, agri-food, and water.
More information HERE
9 September 2021
Tuk-Tam Hive 2021 (by Tuk-Tam)
A multidisciplinary event that brings together people and ideas from around the world and gives access to the most interesting businesses and individuals and the most up-to-date information about Bulgaria to our global community.
More information HERE
9 September 2021
Central Europe Business Day (by SARIO – Slovak Investment and Trade Development Agency)
The main objective of the Business day is to held the bilateral negotiations of individual companies, which will provide the opportunity for Slovak and foreign entrepreneurs from Central Europe to establish personal contact and develop mutual business relations.
More information HERE
9 September 2021
Google Cloud Startup Summit (by Google)
Google Cloud is invested in helping maximize your potential using all that Google has to offer. Sharing experience in venture capital, mentoring founders and working in the technology industry, Google offers the right support for a startups to embark on theirjourney.
More information HERE
9 September 2021
How cooperation can drive policy design? (by Interreg Europe)
Regional cooperation is at the heart of finding solutions that have already been implemented and test by others. Rather than reinventing the wheel, people can share knowledge, innovate and improve through each others' experiences.
More information HERE
9 September 2021
Why Salesforce Commerce Cloud could be your next career step in 2022? (by Telerik Academy)
Learn more about the SFCC platform, the increased demand for developers and the career opportunities it offers and meet top Salesforce professionals and learn how they build solutions for international companies, contributing to their business success.
More information HERE
11 September 2021
Pitch2Pitch 2 vol.2 | 1 min. Elevator Pitching Event (by Networking Premium Coworking)
#Pitch2Pitch is a monthly series in which entrepreneurs and innovators have a chance to present their StartUps to an audience and investors from Bulgaria and Israel.
More information HERE
We forgot to list your event? Drop us an email at office@trendingtopics.bg.