#SAVETHEDATE
Trending Events Weekly Calendar: What you shouldn't miss this week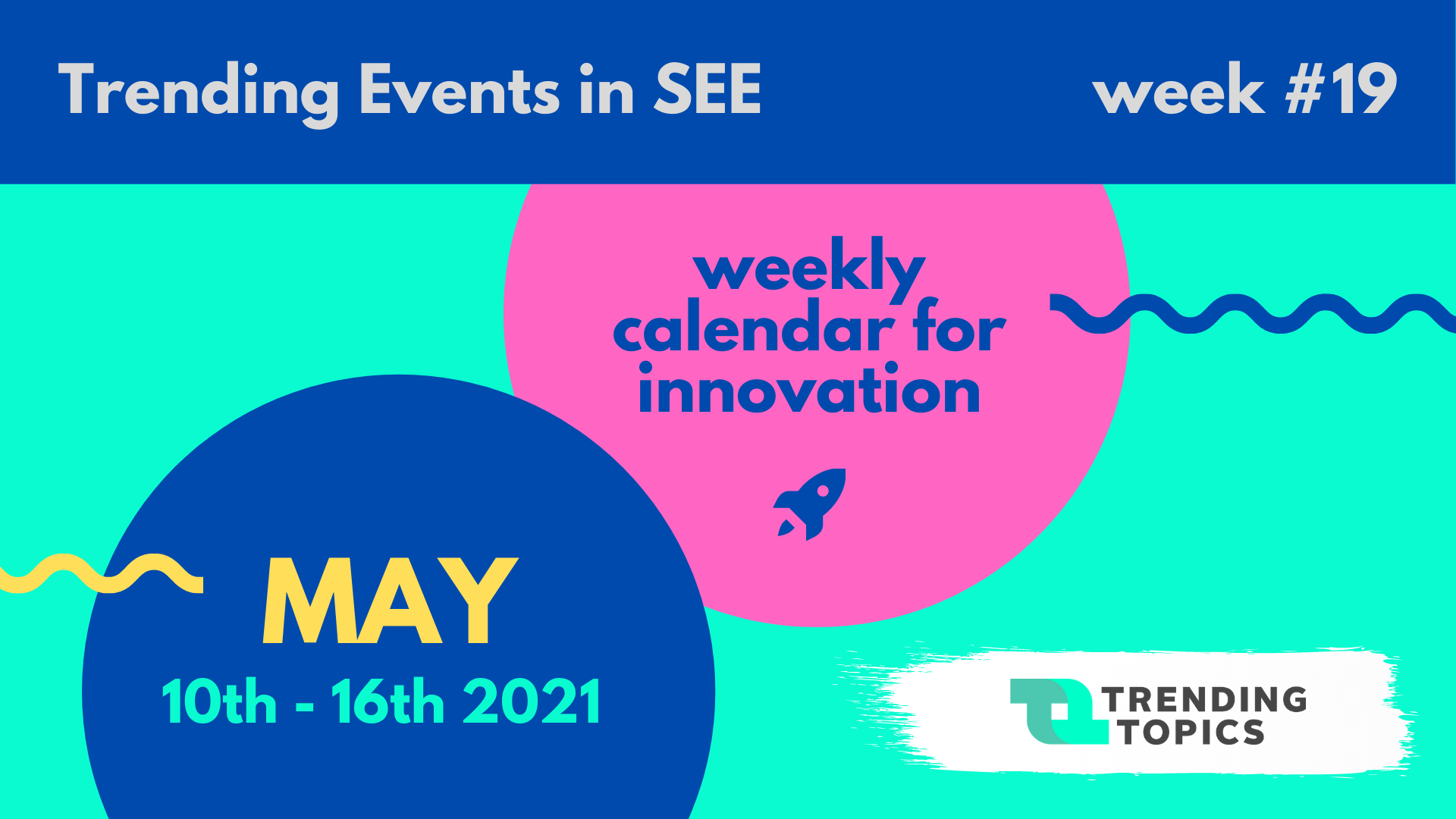 This is our list of all major events from the world of startup, innovation, and all things trending in the week May 10-16, 2021, 2021. Save the date!
10-12 May 2021
Manufacturing Days powered by EIT Manufacturing
The Manufacturing Days powered by EIT Manufacturing are a forum for gathering the actors in the manufacturing industry all across Europe and beyond. This is the place to get latest insights, talk and listen to experts, and learn about new opportunities for you and your organization. Participation in this virtual event is free of charge. 
More information HERE
11 May 2021
A Green and Digital Europe with Full-Fibre: Opportunities, Challenges and Best Practices
This interactive webinar will take place against the backdrop of the Connectivity Toolbox, and the recommendations of best practices that are put forward to help facilitate the most efficient roll out of very high-capacity networks, including full-fibre broadband. It will look at the extent to which the measures can help countries to accelerate their progress towards the European Commission targets for rollout of fibre, and at the path ahead to ensure that the economic, social and environmental benefits of this can be felt as soon as possible.
More information HERE
11 May 2021
STARTUP3 AI Innovation Challenge
High-value startups from the STARTUP3 Accelerator and from the SCS Cluster ecosystem will expose their AI-integrated solutions and compete in front of key Corporations, SMEs, and academics experts in this field. The challenge winner will get a ticket and a dedicated spot on the SophI.A. Summit 2021, an international symposium presenting recent advances in Artificial Intelligence and its applications.
More information HERE
11 May 2021
Delivering Green: Creating Sustainable Supply Chains
The Logistics & Supply Chain industry has been heavily investing in controlling its carbon emissions and green initiatives. Despite the positive results much more remains to be done. This sustainability and green logistics conference aims at bringing high achievers and top leaders in the industry who have managed to deliver successful environmentally friendly projects onto the logistics market.
More information HERE
12 – 14 May 2021
EMERGE 2021
Take EMERGE with you: the event is available on desktops, mobile and app – for your convenience; Bookmark interesting talks and people, and build your personal schedule in app and Google Calendar; Get hired, mentored or fundraised via networking opportunities.
More information HERE
14 May 2021
LEGALTECH Innovation Conference
The virtual conference will bring together top entrepreneurs, lawyers, investors and legaltech experts, sharing their visions and unique insights on the nature of legal technologies and their relationship with data, IoT, AI, cybersecurity and blockchain as well as ethical considerations of technological advancement and future projections.
More information HERE
14 May 2021
"Music &  Audio tech" –  by THERMI GROUP
Technology is behind every stage across the music & audio content value chain: production, delivery, distribution, and consumption. On May 14 at 11AM CEST, join this event to hear the lessons learned on behalf of successful emerging actors of today's music & audio industry.
More information HERE
15 May 2021
TEDx Lozenetz
In the spirit of ideas worth spreading, TEDx is a program of local, self-organized events that bring people together to share a TED-like experience. At a TEDx event, TED Talks video and live speakers combine to spark deep discussion and connection. These local, self-organized events are branded TEDx, where x = independently organized TED event. The TED Conference provides general guidance for the TEDx program, but individual TEDx events are self-organized. (Subject to certain rules and regulations.)
More information HERE
15-18 May 2021
Sofia Science Festival
The 11th Sofia Science Festival will take place from 15 to 18 May 2021 in Sofia Tech Park and digitally. Due to the Covid-19 pandemic, changes may occur – both in the dates and format (digital or face-to-face).
More information HERE
Application deadline

:

May 10, 2021
Increasing Trust in E-commerce in South-Eastern Europe
E-commerce has become an inevitable part of everyday life after the outbreak of COVID-19. Internet sales are breaking records on a global level, and the number of online shoppers is increasing on a daily basis.
More information HERE
DEADLINE: Application is Open till June 1st
Startup World Cup Europe
Join the world's largest startup competition regional chapter then head to San Francisco to claim 1 000 000$ GRAND PRIZE!
More information HERE
DEADLINE: 11 May 2021
Bio Accelerator: Innovative HealthTech & AgeTech startups
Located at the center of a busy crossroads for European business activity, Eurasanté's Bio-Accelerator aims to jump start medical and AgeTech startups or young companies looking to develop in Europe.
More information HERE
DEADLINE: 19th May 2021
GALACTICA CALL FOR PROPOSALS
SMEs and Startups can apply for funding up to EUR 100,000 ("Orbital Projects") or up to EUR 20,000 ("Pioneer Projects"). The main goal is to support the exploration of new cross-sectoral value chains feasibility with focus on developing a Minimum Viable Product (MVP) connecting two or more of the sectors (aerospace, textile, advanced manufacturing).
More information HERE