NEVs
E-Cars: Report Shows VW Hard on Tesla's Heels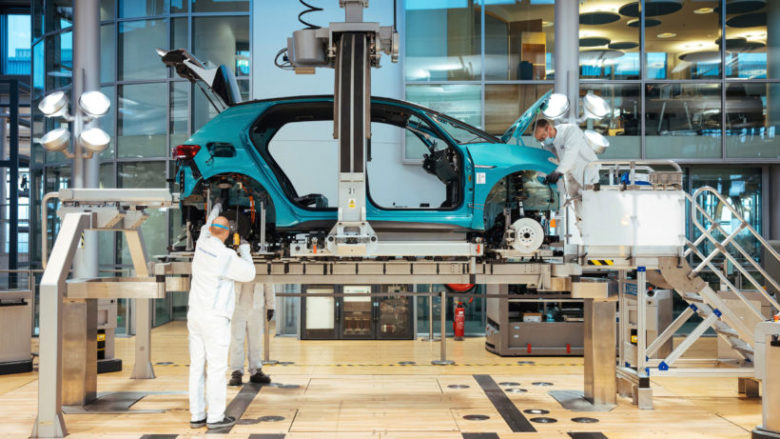 Volkwagen (VW) is "fully competitive" with global e-car market leader Tesla in the race for dominance on the global market of new electric vehicles (NEVs), according to analysts from Swiss bank UBS. The German carmaker's MEB (Modular Electric Drive Kit) platform is on par with the US-based manufacturer when it comes to costs and has "first-class energy density, efficiency, and scalability".
Still, VW lags behind Tesla when it comes to batteries and software. Tesla invests a lot in developing new, high-performance batteries, but VW is eager to catch up in this area. There may be some news from the German group on the topic on Power Day on March 15th next week.
+++CO2-Pooling: How Tesla Earns Billions on The Back of Other Car Brands+++
As far as software is concerned, VW is several years behind Tesla, but is making steady progress. Recently, the company announced that its new models ID.3 and ID.4 will receive an "over-the-air" (OTA) update in the future. By that, they mean software updates that can be downloaded from the internet via smartphones instead of clients having to go to a VW workshop.
In terms of sales, analysts at UBS are confident VW will catch up with Tesla as early as 2021 reaching annuals sales of 1.2 million NEVs. For comparison, in 2020, Tesla sold almost 500,000 NEVs vs 134,000 for VW. Considering the rapid expansion of this market, sales are expected to multiply quickly.
Europe and China are crucial
In some European markets, VW has already been able to outperform Tesla, achieving a market share of 20-25%. "In the Netherlands and Germany, the VW brand ranked first in the list of top NEVs last year. It had a market share of 23.8% in Germany and 23% in the Netherlands, Wolfsberg said recently.
In addition to Europe, China is naturally a crucial market for e-cars. The Asian giant is the world's biggest NEV market and it is hardly surprising that Tesla has set up its own factory in Shanghai to streamline its operations on this huge market. But VW has been gaining ground with its brands accounting for over 40% of the local market.
+++Elaphe Propulsion Technologies: The Slovenian Company That Aims to Enable a Better Design For Electric Vehicles+++