TWITTER
Elon Musk and the letter "X": A Long and Complex Love Story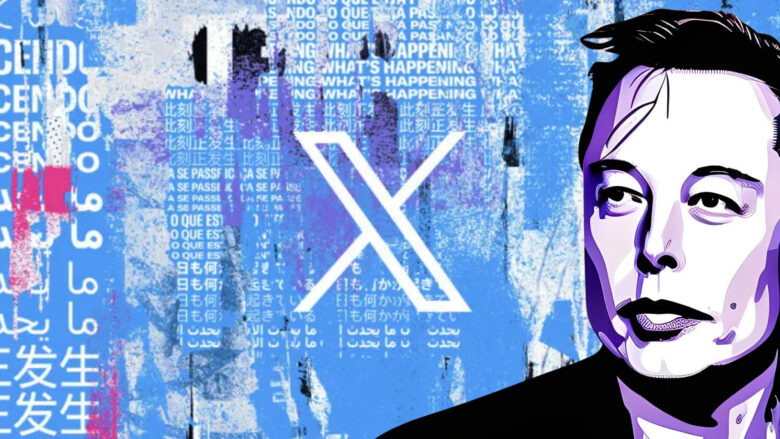 It's arguably one of the strangest and most controversial rebrandings of all time: In July, Elon Musk retitled the social media app Twitter X. Musk's decisions around the app have been questionable since the acquisition last year, and replacing the famous blue bird and terminology surrounding Twitter with a mere X also seems like a risky move. But it is well known that Elon Musk has a great fondness for the letter X, as shown, for example, by his company SpaceX. However, the love story between Musk and the X goes back much further – to the 90s and the founding of PayPal.
Elon Musk always wanted a "one-stop shop" for finance
Elon Musk is usually credited as one of the founders of PayPal. But the story of the payments company's rise to fame and eventual sale to eBay for $1.5 billion is often omitted from Musk's personal history. There is a turbulent history behind this sale, which was characterized, among other things, by violent conflicts and coup attempts in the boardroom. In Musk's eyes, he was robbed of his company and his chance to change the world, says digital strategist and branding expert Gareth Edwards.
Musk already wanted to make massive changes to PayPal. His idea was to create a "global financial hub". Throughout his career, this has remained the one big idea he believes has been lost. Musk's Twitter swing is an attempt to revive that dream and finally make it happen. Twitter is now set to become a "one-stop shop" for social media and finance, showing that Musk never really gave up on his original idea.
First success with the sale of Zip2
The story of X begins in 1998, when Harris Fricker, a financial stocks expert, received a call from Peter Nicholson, a former boss at ScotiaBank. Nicholson introduced Fricker to a 27-year-old Elon Musk. Musk also worked for Nicholson about a decade ago. As an intern, he had been annoyed that ScotiaBank had not implemented his ideas for risky and lucrative deals. Still, Nicholson says he was impressed by the intern's drive and intellect, and they stayed in touch. Musk was on the verge of becoming a dot-com millionaire for the first time in 1998, and he wanted Fricker on his next venture.
Zip2, the online classifieds company that Elon Musk co-founded with his brother Kimbal, was about to be sold, and big ones (Compaq bought the company in February 1999 for $305 million). Musk's stake would be just over $20 million, and with that money, he told Fricker, he plans to do something even bigger and more ambitious. Something the world had never seen before.
"Elon knew nothing about financial services"
As Fricker listened, Musk explained his dream. He wanted to create something that would bring together all of the financial aspects of a person's life in a single place, which he dubbed an "online financial superstore." Here users and companies would manage everything: current and savings accounts, mortgages, stocks and shares, loans, and insurance. It would be a global financial hub – a mega app that users would never have to leave.
Elon Musk convinced Fricker to quit his job in Canada and go to Silicon Valley, where he became a co-founder of Musk's new company. "Elon knew nothing about financial services," Fricker later said in a podcast interview. "But with his boldness and his ability to articulate a vision that people would support, it was quite an interesting combination."
Name X was controversial from the start
The first problem came with Musk's suggestion for the name: X. Fricker was not convinced by the name because the letter alone would not exactly convey a feeling of trust and openness. However, Musk was adamant about using it as a trademark. He described x.com — one of the few single-letter domains registered before its use was banned – as "the coolest URL on the web," and told Fricker he'd already bought it from its previous owner, Pittsburgh PowerComputer , gifted 1.5 million Series A shares in return.
Musk's ability to defy the concerns of others at X stemmed not only from his position as the startup's CEO, but also from the investments he made to get it off the ground. Though later rounds of funding would dilute his stake, X started with a $12.5 million investment from Musk's own money. As a result, Musk was almost entirely in control of the company's culture and goals.
Fallout with co-founder Harris Fricker
It wasn't long before Fricker and Musk's relationship began to crumble. Fricker and the finance team he assembled have expressed increasing concern about Musk's stance on regulation and review. Musk tended to view regulation as an obstacle to be circumvented, rather than something to carefully navigate. Over time, Fricker also became concerned that the development of actual products appeared to be slow, despite Musk's repeated talk of his grand plan to the media, investors, and X staff.
Heading towards its debut in 1999, Fricker and Musk frequently bickered over exactly what to launch. When X opened its digital doors in December of the same year and caused a stir, Fricker had already disappeared. When he came to work one morning, his computer was wiped and his access was blocked. Musk fired him in a manner he is still notorious for to this day.
Confinity: The rival in the office across the street
Initially, X partnered with First Western Bank and Barclays. This allowed the company to offer a checking account of sorts at launch, which, at Musk's urging, featured bank cards and checkbooks and – through Barclays – access to mutual funds. Initially, X was a huge success and quickly gained users, mainly because of the innovative strategy of giving customers a financial reward upon opening the account. But X wasn't the only fintech startup in Silicon Valley that was growing. Literally across the hall from X's office was Confinity.
Confinity was the brainchild of two men: CTO Max Levchin and CEO (and lead investor) Peter Thiel. Ukrainian Levchin was a talented programmer with an eye for security. Thiel was a hedge fund manager and investor with an interest in technology. Levchin presented Thiel with a number of his ideas for PalmPilots—a popular handheld device for business users at the time—until the investor finally heard an idea he liked. The PalmPilots now had an infrared port that could be used to "talk" to other devices. The new idea was to use it to send money, i.e. to turn it into a digital wallet.
The competition for the "killer app"
In July 1999, Confinity launched its money-sharing service, which it called PayPal. At first, X and Confinity were not direct competitors. Musk was focused on his goal of making X a one-stop shop for all financial matters. Confinity wanted to help people move and manage money on their handheld devices. However, the situation changed when both companies accidentally and independently developed the same "killer" app – the ability to send payments from one email address to another.
Over the next few months, a bitter rivalry developed between the two companies. Desperate to continue high growth, they became embroiled in a spending spree, and as the year 2000 approached, the rate of financial burn at both X and Confinity grew dangerously. Musk saw no problem with that, he wanted to win. But Musk was no longer in charge alone. X now has many investors, the most dominant of whom was Mike Moritz from Sequoia Capital.
Retiring as CEO
When Moritz brought Sequoia on board, there was only one condition: Musk should step down from the CEO role. Musk can still drive product strategy, Moritz said, but the company is growing and needs an experienced hand at the helm – especially as there have been rumors among investors that X has a culture of programming first and worrying about regulatory authorities and risks later. Moritz warned Musk that a calm and trustworthy person at the helm would likely be necessary to attract further investment.
Feeling secure as the majority owner of the company, Musk retired from the role of CEO in late 1999. His successor, Bill Harris, soon proved to be the right choice to keep investors on board. Musk was satisfied. But that wasn't to be the case for long. Confinity's Peter Thiel foresaw the impending tech crash in 2000 and was certain that the war between his company and X could not continue and posed a threat to both companies.
The Great Merger and Musk's CEO Coup
Thiel approached X to pitch the idea of ​​a merger. He actually expected a rejection, but Bill Harris was open to the idea. Harris was also concerned about X's burn rate. The two men met and reached an agreement: X and Confinity had to merge. Musk was very upset by this decision. He was aggressive in the negotiations and never saw Confinity as an equal merger partner. Musk actually wanted to prevent the merger, but Harris was adamant and even threatened to quit, which would have hurt X badly.
Eventually, Musk relented, and in March 2000, X and Confinity merged with Harris as CEO of the new company, which kept the X name. Harris' reign was short-lived. Within five months he was gone again. He had clashed with Thiel, and Musk, who still harbored a grudge against Harris, took the opportunity to force him to resign. In May 2000, Musk resumed the post of CEO while Max Levchin became CTO.
The pinnacle of power
For Musk, this represented the culmination of his power at X. He saw it as an opportunity to align the company with his plan to create a global one-stop shop for financial services, of which pay-by-email was only a small part . PayPal needed to be integrated and used to promote acceptance of X's other financial services. That was the only value he saw in the company. To that end, Musk ordered the URL paypal.com to be redirected to x.com and a complete rebrand from PayPal. The revision also included replacing the PayPal name with X-PayPal and the logos.
These decisions horrified many in the product and marketing teams. X performed very poorly in focus groups among PayPal users, with many believing the name to be untrustworthy and sounding more like an "adult site." However, Musk ignored that and insisted on moving ahead with the changes. But far more serious were the mounting security problems at X and the casualties, which were believed to be higher than previously thought. X was burning over $12 million a month and had less than $70 million in the bank in 2000. The possibility of raising additional funds was becoming less and less. Thiel decided it was time to act.
The "Confinity Coup" begins
There is controversy as to who took the first step in what has become known as the "confinity coup". According to most reports, it was Thiel. In any case, it was Thiel who ensured the coup was successful once it was launched. But it may also have been Levchin who made the first move. But one thing is certain: Elon Musk alienated many of the company's key figures during his short tenure. The fact that so many of them were involved shows how concerned they had become about the future of the company.
In early September 2000, a plot to overthrow Musk began to form. The core group of conspirators included Thiel, Levchin and also David Sacks. They used the same strategy that Musk himself used against Harris. They quietly solicited the former Confinity developers and staff who were believed to be loyal to Levchin, as well as all X staff who were known to believe Musk's big plan would bring down the company. Employees were then asked to sign a mass redundancy letter.
Peter Thiel's plan against Elon Musk
The conspirators knew it would be about winning a vote against Musk on the board. Thiel and Levchin had votes, but so did Musk, so success depended entirely on whether they could persuade the others to vote with Thiel and Levchin. John Malloy, a pre-merger Confinity supporter, was known to be a sympathizer and was warned about the plot. While he didn't specifically offer his support, he didn't warn Musk either.
This made Mike Moritz a critical board member. Thiel and Levchin had to convince him, while Musk, with whom Moritz was on good terms, wasn't there to explain the company's problems. Ideally, Musk should also be kept away from the other board members. The conspirators knew there was only one day their coup would work: September 19th. Musk was scheduled to begin his belated honeymoon with his new wife, Justine Wilson. There was a brief window of opportunity where Musk couldn't get involved.
Fall during honeymoon
On September 19, 2000, Elon and Justine boarded a flight to Sydney. As soon as the machine was in the air, the coup began. Thiel and the other conspirators urged Moritz to support the plan. Then they presented the problems with X and PayPal to the rest of the board. Elon Musk only found out about the coup in Sydney and tried to save himself in a conference call. Because he needed to speak to the board members in person, he quickly booked a flight back to the US.
But it was too late. By the time Musk landed, the decision had already been made. He was forced to resign and was replaced by Thiel as interim CEO (and soon permanent CEO as well). Also, there would be no CTO role for him to fall back to this time – Levchin kept it. Musk was reduced to a directorship and a seat on the board. With this decision, his departure from X shortly thereafter was as good as sealed.
PayPal remains – X is dead
Thiel reorganized the company to focus entirely on PayPal, shutting down X's financial services and dealing with fraud. X – or rather PayPal as the company was soon renamed – became a huge hit. The sale of the company to eBay for $1.5 billion in 2002 brought Musk a far greater profit as a shareholder than he earned from Zip2 and sparked many of his other ventures. Musk and Thiel have worked together again, with Thiel among SpaceX's early financiers, and Musk has consistently acknowledged that PayPal's pivot was a financial win.
But Musk never seems to have accepted that his grand plan didn't work. He has often implied in interviews that the rewards would have been far greater had the conspirators trusted him. He still seems to think his one-stop finance shop would dominate the entire financial world today. And now he dares a new attempt – with Twitter.
The second attempt with Twitter
Twitter's pivot to X doesn't appear to have been Musk's original plan. His various attempts to make Twitter profitable through changes tend not to indicate that. But meanwhile, Musk may be trying to rewrite the way the X-Confinity merger ended. This time around, he probably thinks there aren't any pesky investors to stop him, and he's probably right about that.
Its success this time around will depend on two things: whether an all-encompassing app catches on and, if so, whether there are enough people willing to accept Musk as the force behind it, given his divisive impact on public opinion and Twitter as a whole Platform. What is clear is that the complex love story between Musk and the letter X never really ended. Whether Twitter users will ever get used to it remains to be seen.
Next step: xAI
Musk did not quit only with the domain x.com, which now leads to the (ex-)Twitter website. Now he is also in possession of x.ai and ai.com (which he acquired from the ChatGPT creators). What is cooking there? Soon it will become clear. On July 12th Musk announced publically the project xAI. "The goal of xAI is to understand the true nature of the universe. We will share more information over the next couple of weeks and months," reads the official website.
X.ai is currently still considered a "largely fictitious organization" for which a handful of academics and engineers work. Seems like Musk wants to develop an AI that shines in mathematical reasoning, a skill that is less pronounced in ChatGPT.
Credited also as co-founded OpenAI, Musk left the board in 2018 over disagreements with the then-CEO. In a CNBC interview, he claimed that even he is the main reason OpenAI exists and has invested heavily in the company.