interview
PubGalaxy: The Tech Company on a Mission to Help Independent Publishers Globally Monetize Better and Easier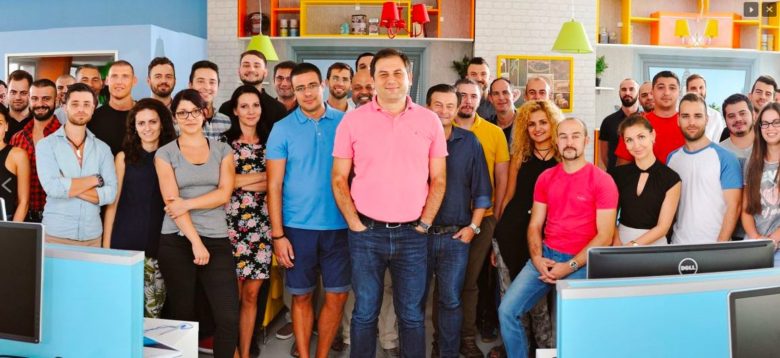 This article contains an affiliate link to our partner hiring platform Noble Hire.  Тhe material is, however, editorial. This series of company profiles aims to present carefully selected tech companies that offer opportunities. By clicking the affiliate link and signing up for Noble Hire, you automatically increase our chance for financial sustainability.
How does a seven-year-old tech company from Varna developing products for media and publishers (clients we know most startups are running away from) turn into one of the fastest growing IT businesses in Central Europe? In 2018, PubGalaxy ranked second in the Big Five category of Deloitte's Fast 50 report (a ranking for companies with over €25M in turnover) and has continued growing at a high pace ever since then. Today, PubGalaxy has not only managed to make money by selling products to media companies, but it has done so well, that publishers have made an additional $100M thanks to the solutions. 
"We have a very strong aspiration to be world-class. This is driven both internally, but also by the external demand of the market, as we are competing in a global market and against much bigger and better funded companies  in the US. So far, we've been rather successful but to make it to the next level we have no choice but to innovate very rapidly," says Ivaylo Ivanov, co-founder of PubGalaxy. What sounds like a pretty template statement actually means that the company is currently rewriting its whole platforms so soon it will be able to launch different products and offer much more customization and monetization tools quickly. "We are now on an ambitious journey to becoming a multiproduct company and therefore we are looking for good product managers and new engineers to strengthen this strategy," he adds.
From the own successful media to success for many publishers
The story of PubGalaxy started in 2001 with Pressian Karakostov and PhoneArena.com, one of the first media for mobile phone reviews globally, which quickly became one of the leading tech sites worldwide. Growing as a media, the team was spending a lot of resources to build a revenue strategy and more precisely – the ad setup. To optimize the process they started testing every major monetization product on the market. Ivanov joined in 2010 and in 2013, after twelve years on that roller coaster,  he, Karakostov and the rest of the team found the working solution – one they had developed on their own. And so PubGalaxy was born.
Today the Varna headquartered company is working with over 300 publishers, mainly in the US, the UK, and Canada, whose website ads are generating over 5B impressions a month. PubGalaxy helps them grow these impressions and monetize them better. The monetization platform is working across the entire real-time bidding (RTB) ecosystem. In a nutshell, PubGalaxy helps mid-sized and large independent publishers to increase their revenues from banners with between 30 and 50% – both by setting up the strategy and executing it. The only thing that a publisher needs to do is to be part of the initial strategizing on how to sell desktop and mobile inventory to premium advertisers and then harvest. But this is also where the interesting part begins for the team. Among the popular solutions are Smart React Lite and Smart View. Smart Reacht allows clients to refresh ad inventory in a user-friendly way integrating with the existing setup and reloading ad units based on viewability and page activity. Smart View analyzes user activity and reactively injects ad placements based on the predefined mapping. It can be used both as a display modifier and a tool to create new viewable inventory proportionate to scroll depth. The platform also offers a product allowing publishers to see how much of their audience is using ad blockers and recover some of the lost revenue through smart and ethical hacks.
"We focus a lot on educating the publishers and developing the strategy together with them as we know how this business works and what the challenges are. And believe me, there are a lot of problems there. For instance, in the USA, where the majority of our clients operate, there's a new regulation every year that is dumping the revenues of publishers. We need to be quick and smart to help them get back on track," explains Ivaylo Ivanov. 
To the next level & rewriting the whole platform
The most interesting project PubGalaxy is currently working on is rewriting the core of the whole platform to be able to address these challenges better. "We want to release a brand new platform by the end of the year. It is designed to give many more opportunities to easily launch new solutions, better monetization tools, and implies more automatization capabilities," explains Ivanov. Currently, the whole development team is dedicated to making this magic happen. The new platform will give them the technological capability to easily launch new products instead of developing them from scratch. 
A new product team that currently has been put together will be dedicated to create new solutions and functionalities. "Step by step we'll start to create new products too. Our vision is to become a multiproduct company. Right now our value proposition is the managed service but we want to build more solutions that help different players on the market in different ways. That's all I can admit for now," he smiles. A complex new project of such scale is quite a challenge – they need to develop a whole new architecture. "There's actually a lot of creative work and developers can be real engineers right now, not just coders," says the co-founder. This, according to him will be PubGalaxy's USP on the market for both developers and product managers, the roles for which the company of currently around 70 people between Varna and Sofia is hiring most intensely. 
Failing and rebuilding the scalable structure
Scaling the company – both from tech but also from people's perspective is what Ivaylo Ivanov and his co-founder Pressian Karakostov have been working on in the past two years. "Our focus has been a lot on building up the middle management as we believe this is the backbone of every organization and we are very proud of our achievement to have autonomous people who are empowered to make decisions on their own," he shares. But this has not always been so, he admits. Throughout the years the co-founders have struggled exactly with this.
"I think the biggest failure of the company is that we didn't implement the good mid-management structure on time and we had a lot of learnings. Every organization that wants to scale has to have the right mindset and set the structure upfront – both when it comes to technology and in the people's organization," Ivanov shares some learnings. "We've always had a struggle between internal growth and external hiring. Now we spend a lot of time and effort to find the right people for the team."  This is also what the company learned after being selected to be part of the global entrepreneurial organization Endeavor. 
After years of experimentation, just like with the monetization strategy of PhoneArena, they've found the formula that works for PubGalaxy – spending enough time to evaluate who is the right fit and how to develop the potential of the right fits. What unites them is that everyone in the company is passionate about learning and development. With the years the co-founders made sure that they have more than enough programs that allow every team member to learn and grow based on their own pace. Alongside this, new programs are launched every quarter and the company provides a limitless Amazon library for the team.
"If you ask me today what I'm most excited about and most proud of I'd say: We have a great team of passionate people who want to work with one another and build world-class solutions. I think this is why we are well-positioned to also achieve this." 
Take a look at other similar company profiles:
Bianor: 22 Years Between NATO, The Library of Congress, and Video Streaming
Gameloft Bulgaria: How To Deserve Your Independence Within One of the Biggest Gaming Companies in the World