#SAVETHEDATE
Trending Events Weekly Calendar: What you shouldn't miss this week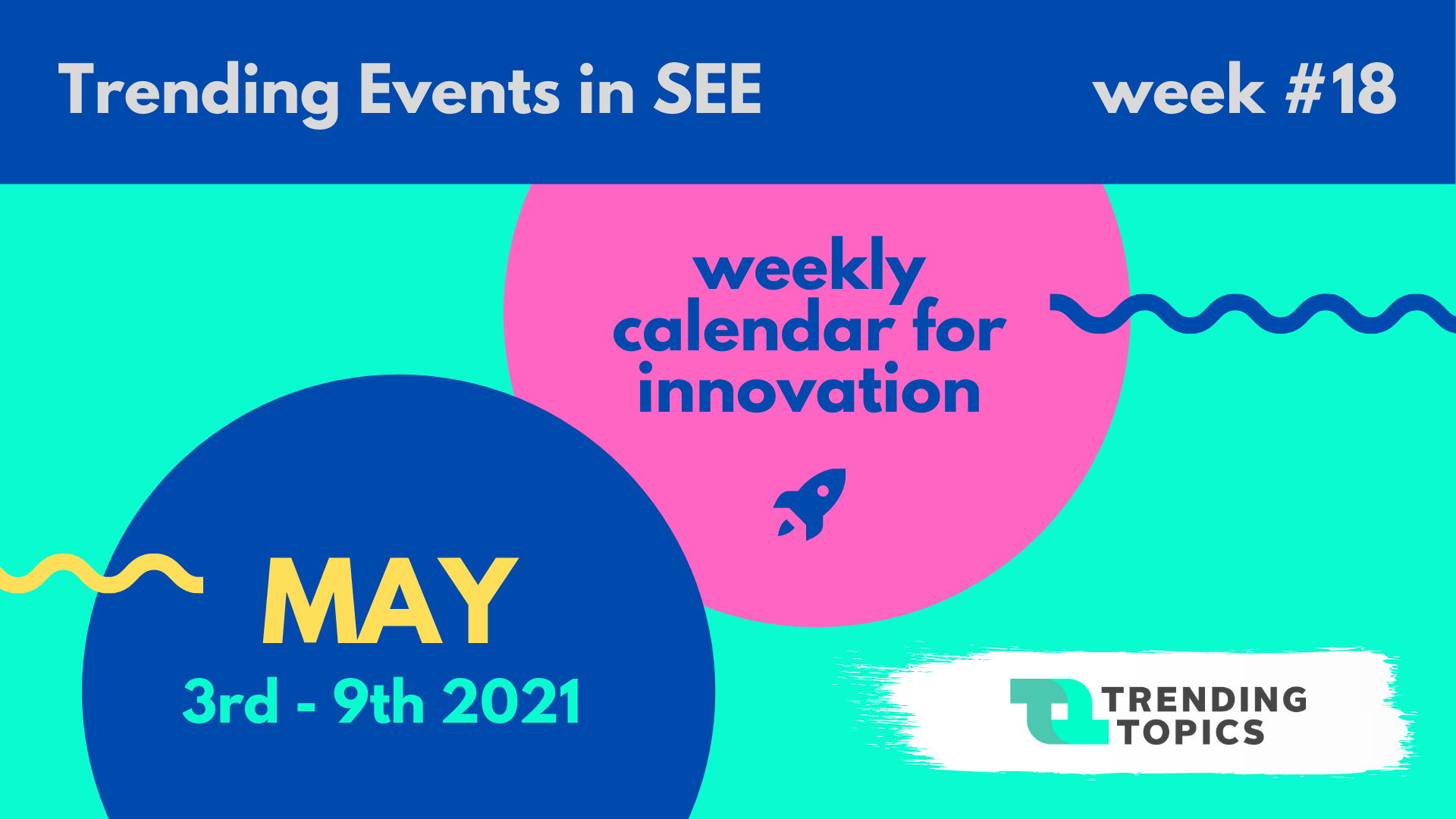 This is our list of all major events from the world of startup, innovation, and all things trending in the week May 3-9, 2021, 2021. Save the date!
4 May 2021
Internet Week Denmark 2021
Internet Week Denmark is Denmark's most unique, most inclusive tech festival.
From May 4-9, 2021  businesses, politicians and citizens all over the world get together online for a week of discussions, debates, presentations all focused on how tech is transforming our lives. 
More information HERE
4 – 5 May 2021
AI4 2020: Healthcare Summit
Over two days, the Ai4 2021 Healthcare Summit brings together business leaders and data practitioners to facilitate the adoption of artificial intelligence and machine learning technology. Join the industry's most impactful AI for healthcare event.
More information HERE
4 May 2021
Youth entrepreneurship I: fostering an entrepreneurial spirit at a young age
In just 30 minutes you will see why there is a need to foster and encourage an entrepreneurial mindset in children at secondary school level. You will learn about complementary practices that facilitate their entrepreneurial spirit.
More information HERE
5 May 2021
Critical Infrastructure & Resilience Regulation
How to build a consistent compliance framework that spurs trust and innovation in the digital single market. Don't miss your chance to join the 250+ attendees already registered to attend this interactive webinar to discuss Critical Infrastructure and Resilience Regulation.
More information HERE
10 – 12 May 2021
Manufacturing Days powered by EIT Manufacturing
The Manufacturing Days powered by EIT Manufacturing are a forum for gathering the actors in the manufacturing industry all across Europe and beyond. This is the place to get latest insights, talk and listen to experts, and learn about new opportunities for you and your organization.
More information HERE
Application deadline

:

May 10, 2021
Increasing Trust in E-commerce in South-Eastern Europe
E-commerce has become an inevitable part of everyday life after the outbreak of COVID-19. Internet sales are breaking records on a global level, and the number of online shoppers is increasing on a daily basis.
More information HERE
DEADLINE: Application is Open till June 1, 2021
Startup World Cup Europe
Join the world's largest startup competition regional chapter then head to San Francisco to claim a 1 000 000$ GRAND PRIZE!
More information HERE
DEADLINE: 11 May 2021
Bio Accelerator: Innovative HealthTech & AgeTech startups
Located at the center of a busy crossroads for European business activity, Eurasanté's Bio-Accelerator aims to jump start medical and AgeTech startups or young companies looking to develop in Europe.
More information HERE
DEADLINE: 19th May 2021
GALACTICA CALL FOR PROPOSALS
SMEs and Startups can apply for funding up to €100.000 ("Orbital Projects") or up to €20.000 ("Pioneer Projects"). The main goal is to support the exploration of new cross-sectoral value chains feasibility with focus on developing a Minimum Viable Product (MVP) connecting two or more of the sectors (aerospace, textile, advanced manufacturing).
More information HERE
April 30 – May 4, 2021
Orthodox Easter 2021
The Orthodox Church sets Easter according to the Gregorian calendar which is 13 days later than the Julian calendar. The countries which celebrate Ortodox Easter are Armenia, Belarus, Bulgaria, Cyprus, Georgia, Greece, Moldova, Montenegro, North Macedonia, Romania, Russia, Serbia and Ukraine.