INNOVATION IN SCHOOLS
Youth entrepreneurship: JA Bulgaria's Rising Stars forum showcases best student-led innovative projects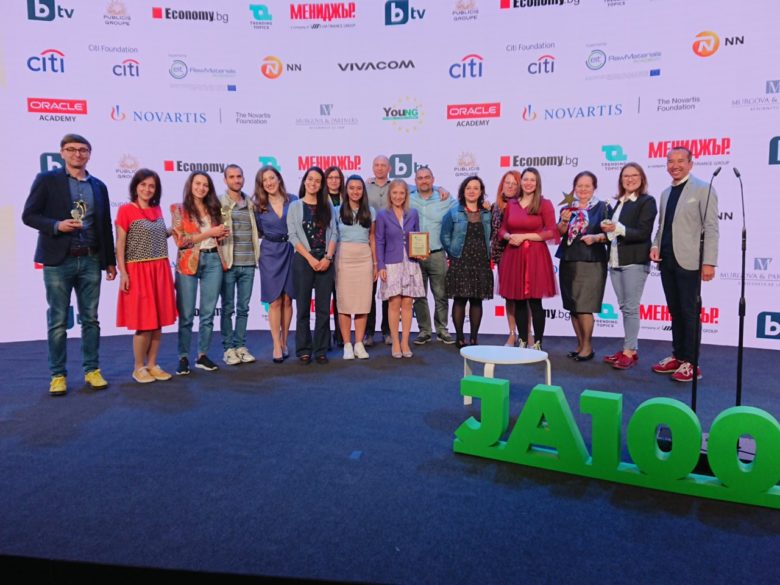 The number of innovative ideas by young entrepreneurs who are not afraid to make their first steps in business is constantly on the rise. On their way, they are supported by the entrepreneurial community that organizes and support various school and university programmes.
One of the organizations driving the business evolution underway is JA Bulgaria. For 23 years now, it has been introducing entrepreneurial programmes in high schools and universities, supporting student and pupil-led startups. Some of the alumni of the organization include Bulgarian social entrepreneurs Boris Kolev, the only European who was placed among the eight finalists for the Global Business Hall of Fame 2020, Kristiyan Mihaylov, chair of the Bulgarian Professional Association of Robotics and Automation (PARA), Georgi Kadrev, co-founder and chair of  Image Recognition PaaS Imagga, who was part of the JA Company Program, JA Worldwide's longest-lasting initiative.
+++HR tech in Bulgaria: How COVID 19 changed the industry?+++
Success despite the odds
"Entrepreneurship and active citizenship are a couple of the key competences supported by the EU. In high schools, where they can bring stronger professional results in terms of the overall education of all students, they are still to be achieved. To support these efforts, we developed the Entrepreneurship Profile targeting high school students, which includes classes in entrepreneurship, financial literacy, business skills, IT, and a foreign language," Milena Stoycheva, CEO of JA Bulgaria, told Trending Topics SEE.
Despite the challenges students and teachers faced during the 2020/2021 academic year in the midst of the COVID-19 pandemic, the Company Program attracted over 1,000 students from 80 high schools. Seventeen of them reached the finals of the Rising Stars 2021 youth  forum. A jury selected the best projects based on their ideas for sustainable eco business, new services, social entrepreneurship, and new approaches in education.
The team of CafeEco, bringing together Alexandra Vasileva, Boyana Karapaseva, Miryana Ivanova, and Nia Nedelcheva from The Baba Tonka School of Mathematics in the city of Ruse, won the Company of the Year award. They presented their eco heating briquettes made of 80% waste coffee grounds and 20% wood shavings. The teenagers will present our country at the international final of JA Europe in July 2021.
BioFoam, alternative to styrofoam
The media awrd went to Yoana Bobeva, Konstantin Georgiev, Martina Pencheva, and Tsvetelina Milkova and their BioFoam project, which offers an alternative to styrofoam. Their project is not unique but they were able to impress the jury with their progress.
BioFoam have developed a formula and a method to produce bio-polystyrene or bio-styrofoam and they are now looking for funding to launch laboratory trials. The student-led company also has a thorough business plan. "As part of the JA programme, we learnt so much about entrepreneurship and how to develop a business idea. We learnt how to find creative business solutions to existing issues, how to turn our ideas into real prototypes, and how to take these prototypes to the market as a ready product. Maybe one of the key things that we realized is the importance of working in a team," Tsvetelina Milkova told Trending Topics SEE.
+++Biomyc: Working With The Production Planning Department of Mercedes-Benz To Develop Eco-friendly Replacements In Car Production+++
Candidates for the BEYOND pre-accelerator double
The students' projects helped the jury decide the winner in this year's BEYOND pre-accelerator. A total of 11 startups in three areas (medicine and healthcare, smart cities and environment and circular economy) reached the finals.
Malvina Ilieva, management consultant and co-founder of The Edge: R&BD, a subsidiary of JA Bulgaria, is impressed by the success of young entrepreneurs. The COVID-19 pandemic made them think out of the box, and develop their perseverance and endurance, which, according to Malvina, is the best recipe for success.
 "Over 420 young people applied to join the pre-accelerator, which is double last year's number. At universities, entrepreneurship and innovation are yet to be introduced as disciplines in all specialities. The pre-accelerator is a model that gives actual chances of implementation to these courses and help them bring innovations of actual economic and social added value," she told Trending Topics SEE.
+++Veolia Partners with Accelerator Innovation Starter To Support Circular Economy Startups+++
A nest of excellence
 The winners in BEYOND are chosen based on a set of criteria in line with EU assessment standards. This year, however, competition was high and the candidates were not able to meet the jury in person due to the COVID-19 pandemic, which was a bit challenging.
Max Gurvits, managing partner of Vitosha Ventures Partners, told Trending Topics SEE that BEYOND's focus on very young people is extra advantageous, as the earlier people get a chance to obtain exposure and experience in startup building, the quicker they will amass the needed level of experience to take part in a winning, breakthrough inititative.
"As the venture industry, we're now at an inflection point where the future of entrepreneurship education is clearly with programs like BEYOND. Their high quality in taking inexperienced people through a rigorous and structured learning process is what the investment community needs. As the venture industry matures and becomes efficient and compeitive, one of the main angles of differentiation will be where the founders first learned the trade, and a program like Beyond is where that excellence is first created", he said.
He and his fellow-jury members picked Wasteful 's team as the winner. Wasteful produce paving blocks made of plastic and industrial waste, reducing pollution and creating a product that is lighter, cheaper, and more durable than the existing alternatives. The company won a prize of BGN 5,000 (EUR 2,500) and will present Bulgaria at the international final of JA Europe in July 2021.
+++Vitosha Venture Partners Makes Its First Investments: €2.4m for Bulgarian Mobility, Travel, and Fashion Startups+++
Trending Topics SEE was media partner of the Rising Stars 2021 youth forum and was part of the jury in the startup competition.
The full ranking of the winning companies in this year's Rising Stars 2021 can be found HERE.