video interview
Adeo Ressi Of Founder Institute On Exits, Entrepreneurial Mindset And Shifts In The Startup World
The world has seen different faces and sides of the 47-year-old Silicon Valley entrepreneur Adeo Ressi. He's mostly associated with two of the companies he created – TheFunded, a website for anonymous reviews of VCs in the Valley, and Founder Institute, the world's largest pre-acceleration program. Once running an unofficial college bar with Elon Musk, building a gaming company that raised $9M back in 2005, experiencing some hard time with his investors, and selling two companies for over $1B before 30, Ressi started thinking of ways to change the status quo.  
The project of his with the largest scale so far seems to be Founder Institute.  At the beginning of the year, the US pre-seed accelerator Founder Institute announced it is opening its first office outside the Valley. The location is the Bulgarian capital city Sofia and its focus will be on operations – growing and strengthening the global FI network. Ten years after its establishment, FI already has programs in 180+ cities worldwide and owns equity in around 4000 companies, has many fans and also many critics. Some of the criticism is because of FI's business model, the incubator receives 4% equity of each venture founded as a result of the program and distributes it to the local chapters' leaders. Others dislike FI because of Ressi himself, saying he is arrogant and harsh. The founder of this himself is an entrepreneur, who on the one hand, wants to unlock a wave of meaningful businesses, as he says, on the other – is, of course, running his business. 
We've heard and read different opinions, and finally sat down with Founder Institute's founder to try to look into his personality, and also the way he sees the world of entrepreneurship. Because who would have a better overview of the direction the startup world is going than a person who has 4K companies on his portfolio?
Trending Topics: What brought you to Founder Institute?
Adeo Ressi: The FI is ten years old now, and if you remember ten years ago the Lehman Brothers collapsed, and it collapsed on the day I was buying my house. So all my bank accounts were frozen. And I thought at the time: How can we make the world a better place? And the answer was clear. If entrepreneurs were trying to fix the problems of the world, create new opportunities, we could see a better world emerge. And ten years later, we've been on a continuous boom cycle of humanity, one of the longest boom cycles in recent memory. The stock market's growing, problems are being solved, opportunities are being unlocked, and in a small way, the FI has contributed to that by helping thousands of people pursuing their dreams and building companies that make the world a better place.
Can you tell us a bit more about the ventures you had before?
I've always been trying to wake humanity up and get us to work on important things. So when I started out in 1994 I created one of the first internet companies focused on the www. We were the first commercial website and certainly, the internet became very prominent, but it hasn't fixed the problems of the world. So after that, I started working in space exploration, and now many years later space is doing great. We are looking at the moon and Mars as destinations. But this also hasn't helped wake humanity up. I also had a lot of trials and errors along the way. I once did video games with the same philosophy that we were going to change the world and develop new worlds. But that was not effective too. So finally when I got to the realm of entrepreneurship, you can really see the effects, day to day you wake people up, to pursue their dreams. It has taken me 47 years of life to get here, but I can finally see it's working now.
What does it mean to you to wake humanity up?
Well, most of us are sleeping unconscious in what we do day-to-day. We pick a job, we pick a career, even life partner and many times these decisions are unconscious. Maybe let by the family, or trauma in our life, or just led by circumstances. When you wake humanity up, people start being conscious about what they are doing in their lives, what their purpose is, what the purpose of the world is and to contribute to that. Whereas, when you are asleep, you are not consciously acting, you just sort of flow with the way things go. 
What is your recipe?
You know, the first step is that you feel you need to be awakened and there's something bigger you should be working on. I'd say today, one of the best professions to go through an awakening process, is entrepreneurship. The world was built on frameworks and models, that are old. But when you are an entrepreneur you make your own models and reality and you can make it as right and aligned as possible. As an entrepreneur, you can start creating the world as you wish it to be. Entrepreneurs are an empowering force for the positive growth of humanity.
You sound like you've found the balance. But you also have the reputation of someone who is giving founders a really hard time. Is this your way to teach people something or just the Valley way of doing things?
Within entrepreneurship, it's very easy for people to make a large number of mistakes: they could pick a bad co-founder, or pick a bad business model, and sometimes when you want to deliver a message that needs to be heard and internalized, it's more effective to be harsh. However, harshness has pros and cons. On the pro side, a lot of times your message could be heard and leads to immediate positive changes in the person and the business. One of the significant cons is that the means of delivering the message can also continue to perpetuate some of the negative emotions and negative aspects of society today. So I think there's a fine line. You have to be honest, right? 
That's a challenge for everyone who is giving feedback. Sometimes even if you are giving a hug, it could still be interpreted as harsh. Within that framework, sometimes being brutally honest, might be the best way. I don't think there's one way that works. You need to look at the person you are speaking to and at the circumstances and find a way that's not hurting and ultimately is constructive.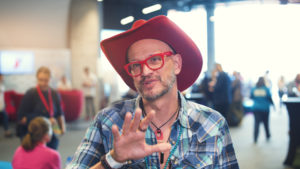 What's your philosophy on the fast scaling and failing startup culture?
I think this old startup paradigm is about to change. It's not about building something to sell and exit, it's about building something to last. And if you are an entrepreneur and you've found something that matters, why would you ever want to sell? I think you'd want to build that forever, or at least till there's no utility.
Back in 2007, I started a company called Funded, and it had the mission to correct what's wrong in the funding role of the venture capital. By 2010-11 it has succeeded. The site is still hot, although it's not maintained. After seeing it achieve its mission, it was easier for me to move on.  So not all businesses are meant to stay forever, some of them will fix problems, and ones they are fixes, the business has not utility. In most cases, today, businesses should be built to last. 
Through FI you own equity in around 4000 companies. How often are there exits and what does the balance sheet look like?
We see an exit every few weeks, anywhere between three and six weeks. What's positive about this is that whenever there's an exit, the money comes to us, and we give 75% of that money back to the community. We have seven-figures of exits a year now, and we are sending that money back to the regional communities. 
Today the startup world seems to be all about the buzzwords – blockchain, AI, etc. What's your take on that?
Buzzwords are buzzwords. I think AI and blockchain are here to stay. I think a lot of the things that happen there are experiments, that might not be here for long. Yesterday, on the pitching stage I saw a beautiful AI company that was building AI for real estate agents. I think there's a lot of opportunities for AI companies to innovate. But I also see many projects that are more temporary in nature. I don't have anything against buzzwords, but we have to be careful. 
Is there a shift in the startup and VC world?
The first wave of businesses, that emerged in 2008-2009 really went around and fixed a lot of small problems in the world. What we are seeing now, also with the release of 17 UN sustainable goals in 2016, our businesses are starting to build something that matters and matter on a much longer time scale. So over the next 10 years, we are going to start seeing businesses that are being built that are making a real impact on humanity, better living conditions, reducing inequalities. All of these 17 sustainability goals will become large companies.