STARTUPS
Croatian Mindsmiths wins the Global Award for responsible use of AI application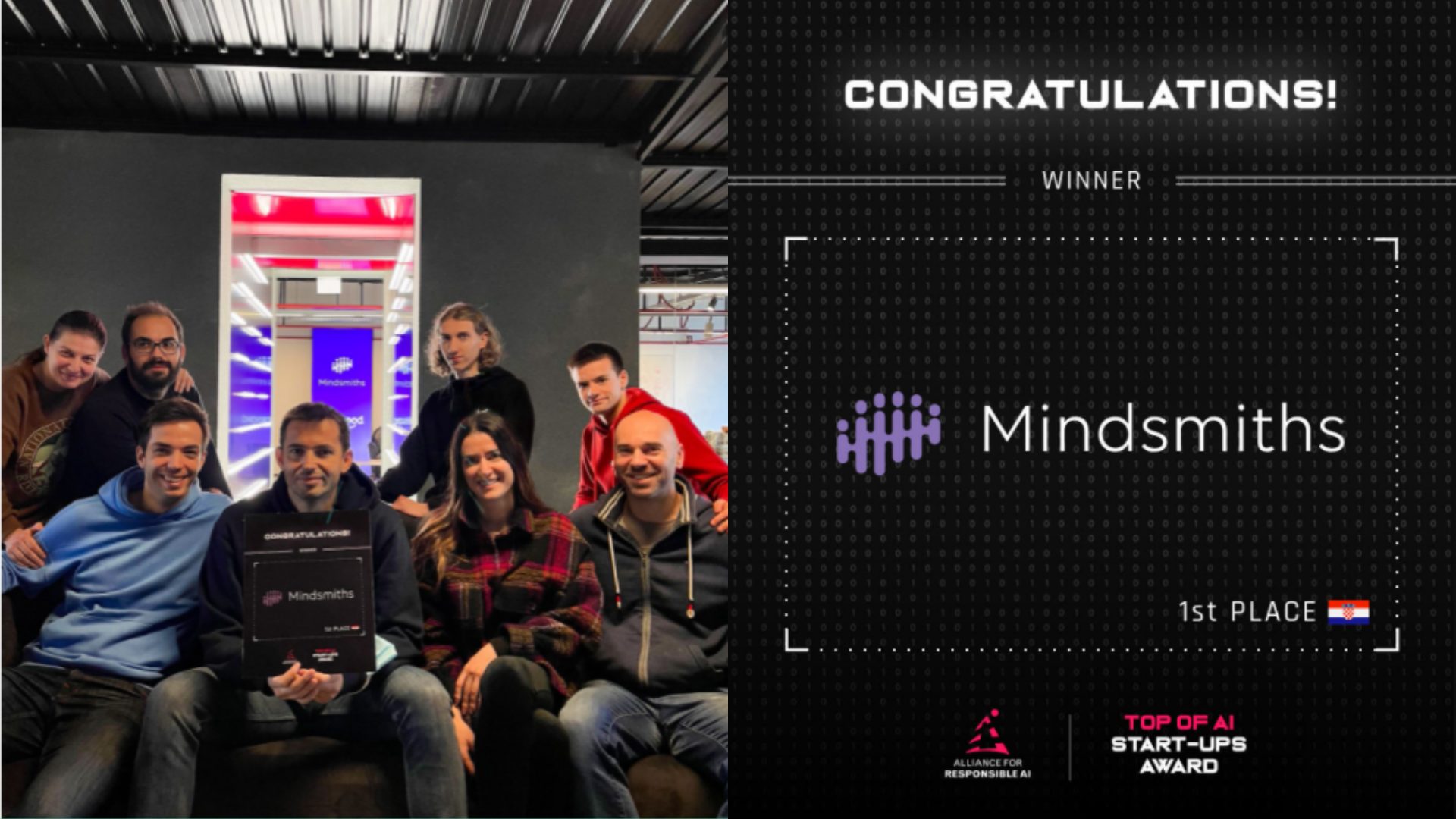 The Croatian startup Mindsmiths is the winner of the global "Top of AI startups Award" provided by the Alliance for Responsible AI.
Second place was won by Life Peak, a startup from Russia and the UAE that works on a digital system that enables online monitoring and prediction of dangerous psychophysical conditions for individuals.
Third place was conquered by the Spanish solution Insikt. Their experts work on developing AI models that allow organizations to gather intelligence on online activities directly related to terrorism, hate speech, extremism, radicalization, or human trafficking.
Altogether 17 projects from 10 different countries took part in the competition. The most important criteria that were looked at when searching for the most responsible AI were:
the social benefits of the project
avoiding and/or mitigating risks
compliance with European AI development principles.
The organizer of the event, the Alliance for Responsible AI, is an organization that includes several European associations that jointly support the development of safe, reliable, and inclusive use of artificial intelligence. The aim of the organization is, among other things, to open a discussion with public institutions and bodies in Europe to ensure that artificial intelligence is inclusive, and does not leave out any individual or group in its development.
READ MORE: Croatian "AI Boom" – A driver of economic development
What is Mindsmiths all about?
The Mindsmiths AI platform has been used to build autonomous support systems (ASS) that find their responsible use in many industries, from healthcare for chronic patients to financial advice to clients in the banking sector.
According to the company, Mindsmiths offers a trustworthy and responsible AI that is all about democratizing autonomization. The team has developed a product that enables digital systems to connect and aims to provide a platform available to everyone who wants to use it to build positive social impact solutions. AI engineers, sociologists, psychologists, and behavioral scientists are working together to ensure that artificial intelligence systems built on the Midsmiths platform can understand users' needs and provide support in challenging situations.
"We envision a world where autonomous support systems work for the benefit of everyone. Crunching data and analyzing signals in the background to proactively offer advice on which medicine to take, which class to attend, or which retirement plan to choose," states the company on their homepage.
Recently, the Croatian AI startup received €1,2 million in seed funding led by Feelsgood Investment Fund. Mindsmiths wants to use this investment to further develop and expand its AI platform.