RUSSIA vs UKRAINE
Crypto donations to Ukraine reach $64 million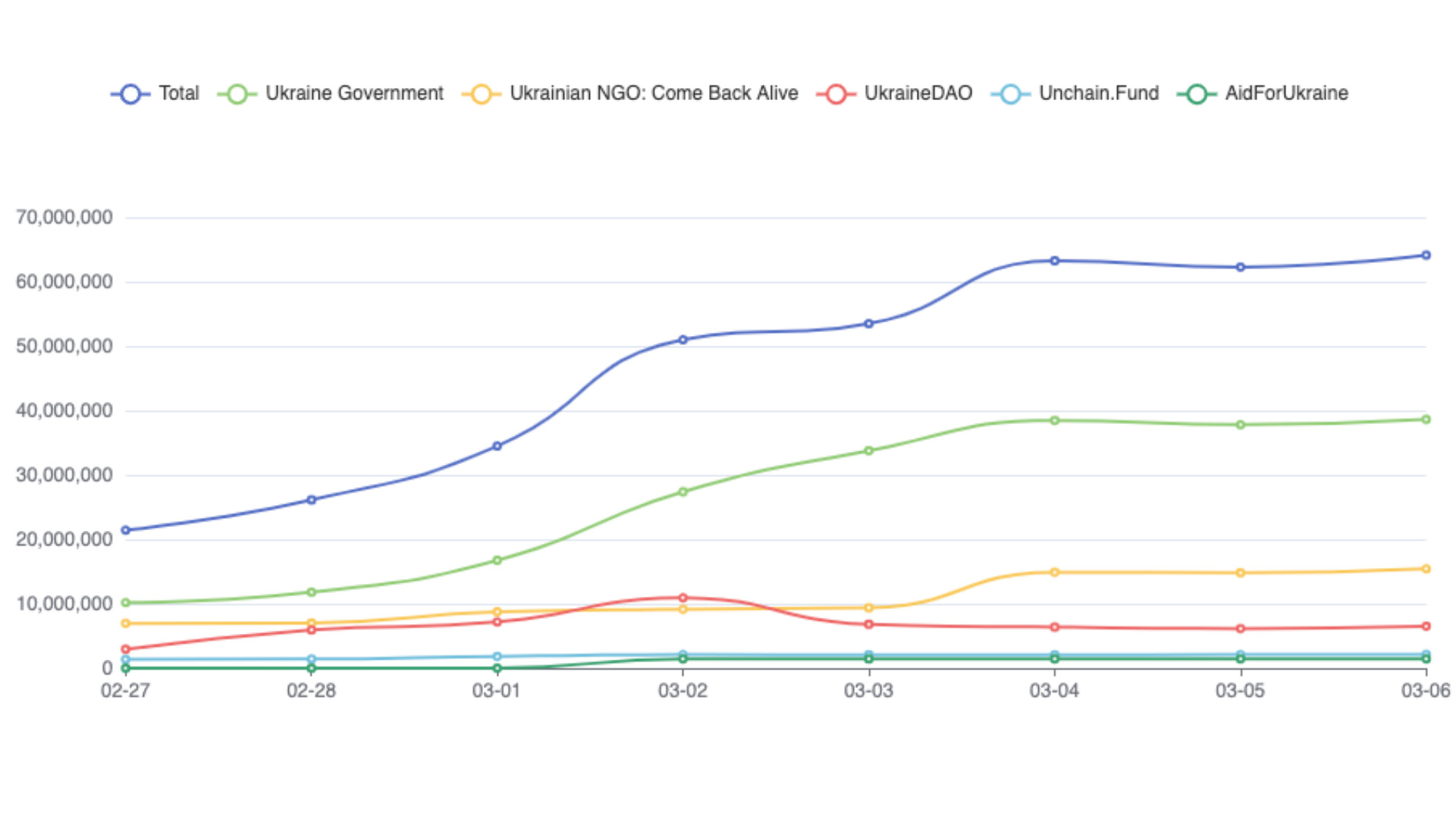 Funds flowing into Ukraine to support military and humanitarian aid continue to grow. The web service Slowmist.com now tracks the addresses for Bitcoin, Ethereum, Polkadot, Dogecoin, Solana, NEAR, Polygon, etc., and calculates how many assets have arrived in the wallets of the Ukrainian government and other donation organizations.
The data shows that crypto-assets donated to Ukraine equal to more than $64 million. The most important donation addresses are those communicated by the Ukrainian government itself, followed by the Ukrainian NGO "Come Back Alive", UkraineDAO, and the Unchain Fund set up by the Exchange Binance. There is also AidForUkraine, where Solana and the stable coin USDC can be deposited.
Important to know: The amount of coins and tokens in the wallets is constantly changing since the assets are also used for buying military equipment and other needed items. That's why analysis services like Slowmist, which track the cumulative amount of donated coins and tokens, are crucial when it comes to keeping track of the money flow.
Here are the addresses of the Ukrainian government.:
Bitcoin: 357a3So9CbsNfBBgFYACGvxxS6tMaDoa1P
Ethereum: 0x165CD37b4C644C2921454429E7F9358d18A45e14
TRON: TEFccmfQ38cZS1DTZVhsxKVDckA8Y6VfCy
Polkadot: 1x8aa2N2Ar9SQweJv9vsuZn3WYDHu7gMQu1RePjZuBe33Hv
Dogecoin: 357a3So9CbsNfBBgFYACGvxxS6tMaDoa1P
Thermal imaging cameras and drones
But what happens to these crypto donations? In general, by order of the Ministry of Digital Transformation of Ukraine, the Kyiv crypto exchange Kuna set up the "Crypto Fund of Ukraine", as well as the wallets to which BTC, ETH, and other cryptocurrencies can be sent. Some of these cryptocurrencies are then exchanged for fiat money in order to buy military equipment and other items to support the situation in Ukraine. Some of the things purchased for the Ukrainian soldiers are thermal imaging cameras, drones, and thermal vision goggles.