CRYPTO
Inflation boosts cryptocurrency stock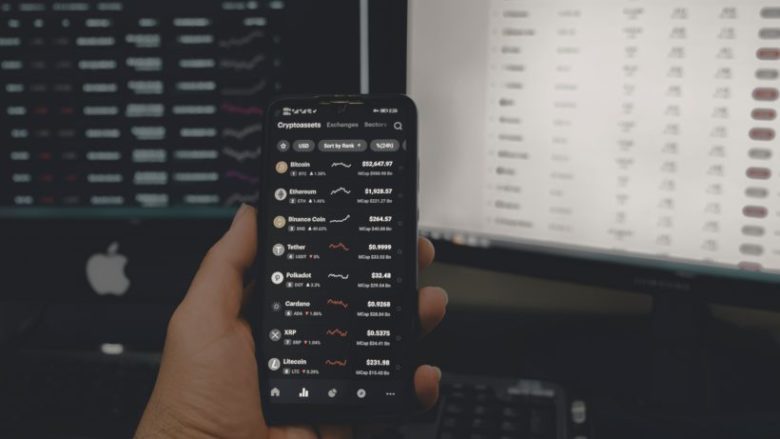 There has been a growing fear of an encroaching period of rising inflation and money devaluation. This fear has been influenced by the 5% inflation rate grwoth in the US, over 2% in the eurozone (Germany and Austria) and rising producer prices in China. While the European Central Bank (ECB) and the US Federal Reserve (the Fed) are still hesitant to put their traditional remedy into play (i.e. raise key interest rates), economists have warned of a ticking "time bomb."
Only time will tell whether this is just a temporary thing or inflation will continue rising as the year progresses. This trend is also heavily dependent on future economic development, the pandemic, and monetary policy in the major economic areas. In the meantime, companies have been using this period of inflation as a selling point for cryptocurrencies and stocks.
"Protection against the inflation of fiat currencies"
After the prices of Bitcoin and Etherium peaked in April around the IPO of Coinbase, the crypto trader's stock started off strong, after which it lost a third of its value. In response, Coinbase started its own blog in an attempt to convince the public of their viewpoint.
Coinbase describes Bitcoin as "an increasingly popular hedge against the inflation of fiat currencies." The listed company follows MicroStrategy CEO Michael Saylor (aka the chief preacher of the Bitcoin community) in the line of argument that Bitcoin investments would protect against the decline in the value of fiat money.
"Since most economists believe that a certain level of inflation is good for the economy, the US government has for decades printed more money than consumers need. That's why a Coca Cola cost five cents half a century ago and several dollars today. 
In contrast, Bitcoin value has risen much faster than the US dollar has lost value – Bitcoin has risen from completely worthless in 2010 to more than $ 20,000 in 2020. (Because the market is very volatile, Bitcoin has also seen dramatic up and down movements, but the trendline has always been up over time.) This has made Bitcoin an increasingly popular hedge against fiat currency inflation."
However, Coinbase leaves out the harsh price fluctuations when it comes to cryptocurrencies, which have cost investors and day traders a lot of money, regardless of inflation. "If Bitcoin were a real currency, the people in this currency area would have to live with an unpredictable sequence of hyperinflation and hyperdeflation. That would be the death of any economic activity," said crypto expert Beat Weber from the Austrian National Bank.
This inflation argument has found its way into the fintech industry, beyond crypto. Regardless of whether it is Scalable Capital, Trade Republic or BUX – you hear everywhere that it is better to invest your money in stocks, ETFs or cryptocurrencies than to leave it in your savings account.
What 1,000 euros can turn into
At 1.2 or 3%, inflation rates usually sound very low, but when analyzed in the long run, they have a much bigger impact. The value of 1,000 euros can be reduced substantially.
Inflation rate of 1.5 percent: 1,000 euros become 985.22 euros

Inflation rate of 2 percent: 1,000 euros become 980.39 euros

Inflation rate of 4 percent: 1,000 euros become 961.54 euros

Inflation rate of 5 percent: 1,000 euros become 952.38 euros
In the meantime, Bitcoin and Ethereum have had really strong years. BTC grew by 315% (from $9,500 to around $39,000), and Ethereum gained a whopping 965% (from $235 to about $2,500). Even though cryptos are highly volatile, they have shown to grow much faster than other assets, in the grand scheme of things. Even though there have been crashes in the past, long-term investments have shown to bring investors more growth.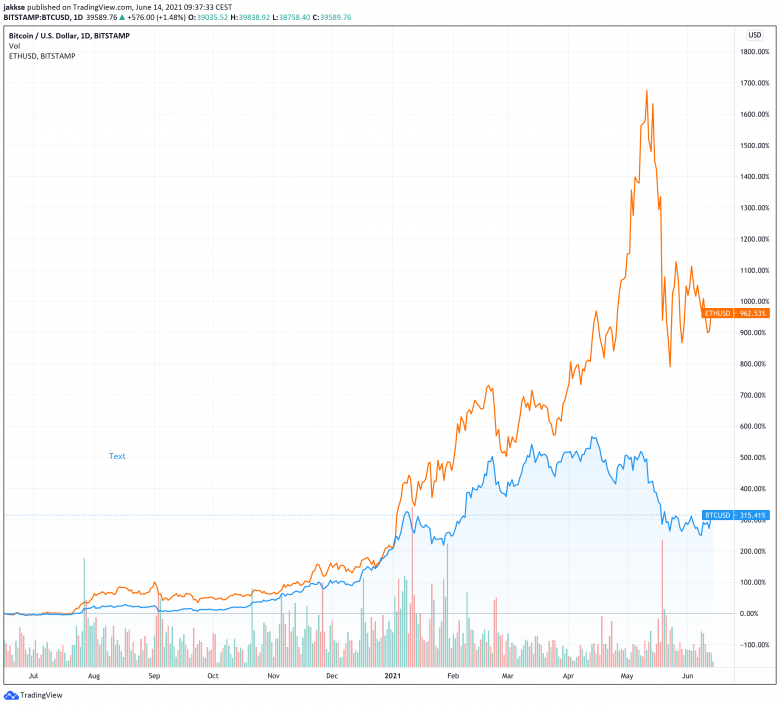 Anyone who invested in crypto in the beginning of the year has seen a huge increase: 
1,000 euros in BTC will be 1,350 euros (as of June 14)

1,000 euros in ETH become 3,420 euros (as of June 14)

1,000 euros in DOGE will be 57,910 euros (as of June 14)
Those who chose more conventional options, more traditional stocks, have been dependent on the stock performance. These are just some of the more popular choices this year. They perfectly show how non-crypto options can be just as unpredictable.
Tesla:

about -14% since the beginning of the year

Volkswagen:

approx. +74% since the beginning of the year

Coinbase:

about -32% since trading started in April

GameStop:

approx. +1,139% since the beginning of the year
The so-called stock picking, i.e. investing in individual stocks, is correspondingly risky. Many experts therefore advise investing in ETFs in which the shares of many different companies (e.g. by industry, region) are bundled and the risk is spread.
So the bottom line is as always: You should only invest what you are willing to lose. Even if Bitcoin and trading apps are often presented as the new savings books, they are particularly associated with great risks and are subject to greater price fluctuations than most fiat currencies. Accordingly, before investing, the following applies wherever: Do your own research!