#SAVETHEDATE
Trending Events Weekly Calendar: What you shouldn't miss this week!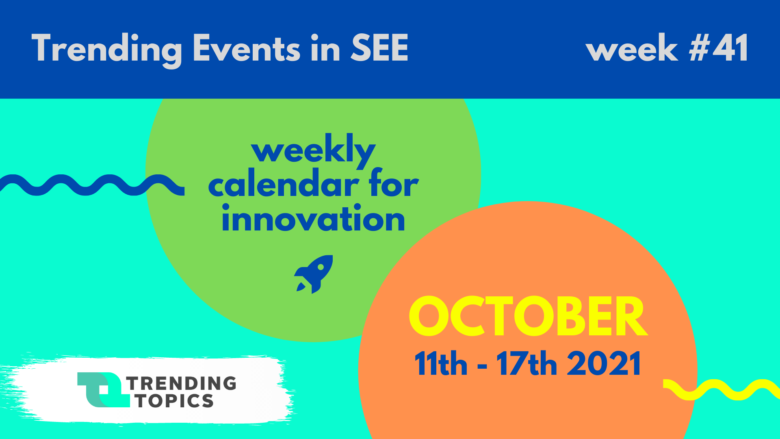 This is our list of all major events and open calls from the world of startup, innovation, and all things trending in the week of October 11th – 17th, 2021. Save the dates!
11 – 13 October 2021
EVENT: Digital Summit Western Balkans 2021 (by Ministry of Public Admin, Dig. Society & Media)
The 4th Western Balkan (WB6) Digital Summit will be organized in hybrid platform in Podgorica, Montenegro. The third day is an occasion of organizing high-level meeting, gathering the WB6 prime ministers on the common path of digital transformation and integration process.
More information HERE
13 – 14 October 2021
EVENT: Big Data Week Bucharest 2021 (by ESolutions.ro & Big data week)
Big Data Week goes to the heart of big data to examine how it is used in practical business scenarios. A hybrid event bringing the latest discoveries, providing actionable insights, and showcasing best practices that you can take away for direct implementation.
More information HERE
14 October 2021
EVENT: Cybersecurity and Data Protection Forum 2021 (by Capital Bulgaria)
Senior managers, board members, and investors increasingly view cybersecurity as a strategic aspect of a business with huge financial, reputational, and regulatory implications.
More information HERE
15 – 16 October 2021
EVENT: eCA Conference eCommerce Only (by eCommerce Academy)
Digital transformation, scaling by overcoming software limitations, how to sell branded content in the media and many other topics.
More information HERE
We forgot to list your event? Drop us an email at office@trendingtopics.bg.