Coop-Story
Roadtrip CEE: This is how Kosovo's first Fintech founder works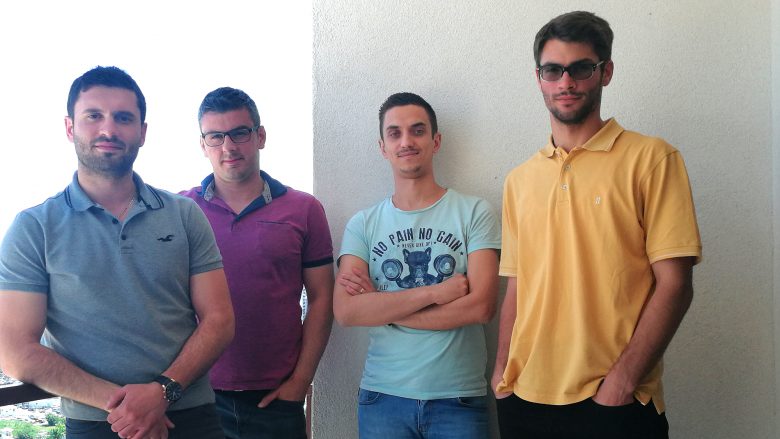 "After my first job in Pristina, I immediately noticed that Kosovo has a hidden talent and a lot of potential to become a leading country for software development in the CEE region. There are many young and ambitious people, able and ready to make a disruptive change. All they need is a little push into the right direction. " – Jetmir Halimi, CEO of Trekandi
Jetmir Halimi grew up in Switzerland and was used to peace, order and a high standard of living. He worked for Basler Kantonalbank, Wirtschaftsdienst AG and Zurich Insurance Company and was heading for a well-situated career in the financial paradise. "At some point I had a feeling that I wanted to give something back to my home country, Kosovo." He believes that technology and a certain drive can change an entire region for the better.  His parents fled Kosovo to Switzerland during the war in Yugoslavia. Now Halimi moved back to Pristina. "If you want to build a startup, the capital is the only place to go," says Halimi. 
<< Fintechs: Here´s what happens in Sofia, Bulgaria. >>
95 percent smartphone penetration
At New Years in 2017, he left for his new future. This is an unusual step. Most young Kosovars choose the opposite direction. This is due to the still uncertain political situation, corruption and high unemployment. However, other figures support Halimi's optimism: 90 percent of Kosovars use the internet regularly, more than 85 percent via their smartphone. If it remains politically stable, the whole region can make a huge leap in the coming years. Above all, also thanks to the low-cost specialists.
Innovation Center Kosovo as the linchpin
In Pristina, around 1,000 people work in startup companies. The startup community is slowly growing together, thanks to the support from the US and Scandinavian Embassies, the UNICEF and the German Society for International Cooperation. Established IT suppliers such as Cactuss, Gjirafa, Kosbit, Zombie Soup, Appsix and 3CIS have prepared the field for IT developers. The Innovation Center Kosovo serves as the first point of contact for people who want to start their own business. It is also the place where regular network and pitch events are organized.
"The Innovation Center Kosovo plays an important role for startup ecosystem in Kosovo. They provide necessary resources for startups including training, seed investments, incubation and the right international network. However, financial support remains a challenge in startup ecosystem. Due to regulatory risk requirements, banks can only provide limited support for startups. However, Raiffeisen Bank Kosovo is committed to support and be part of the startup ecosystem. Elevator Lab Challenge is giving us great opportunity to further strengthen our position in the ecosystem," says Kreshnik Halili of Raiffeisenbank Kosovo.
Halimi hardly needed any founding capital for his startup. 10 percent profit tax and 0 percent sales tax on outsourced services make the Kosovo very attractive for startups. The low tax rates also apply to salaried employees. No registration tax is required for new companies. 
Hungry talents
"There are truly enough well-trained, highly motivated young people here," says Halimi. More than 50 percent of the population is under 25 years of age, and over 65,000 are studying at the country's universities. The 29-year-old nevertheless spent a long time looking for suitable co-founders and began to implement his idea. Trekandi is a platform that supports consumers in deciding which form of financing is suitable for the purchase of their consumer goods – a classic form of an offer aggregator and the first fintech in Pristina. The US Embassy brings him on stage as a role model, the flagship company Gjirafa supports him at the beginning with access to their premises. But Halimi also faces many challenges. The legislation is a mixture of EU directives and national laws and allows a lot of scope for interpretation.
Founders make politics
In the Kosovo, no one had heard of fintechs yet. Halimi saw this as an opportunity and involved himself in political decision-making processes. He discussed his opinion with politicians, showed international examples and thus helped to shape laws. "Of course, it was an advantage that I came from Switzerland. The Kosovars trusted me that I had understood the Western world and its mechanics. With this initiative I want to help my country and the young people here." In January 2018, Halimi went live with Trekandi. It is the first Fintech in Pristina. "We want to change the entire economic region. We want to expand to Albania and Macedonia soon." Similar markets with similar conditions are waiting there.
Riding a wave
"We are riding a wave that is getting bigger and bigger. We can achieve a lot with little capital," says Halimi. A back-end developer charges between EUR 4.50 and EUR 20 per hour, which is also one of the reasons why many are heading west. Halimi does not want to deal with the renewed conflict between Belgrade and Pristina. "Young people are tired of politics. We want to resolve conflicts in the society and stop fueling them." Trekandi is currently negotiating with investors. Jetmir Halimi needs EUR 200,000 to build a team of 20 people and grow into three markets over the next twelve months. This is also Pristina.
This article was written in cooperation with the Fintech Accelerator Program "Elevator Lab" of Raiffeisen Bank International. In 2018, the program has also rolled out local challenges in eight CEE markets (Albania, Belarus, Bulgaria, Kosovo, Romania, Russia, Slovakia and Serbia). Data material was provided by Raiffeisen RESEARCH.