#womenpower
Behind the Numbers: These Are The Women From The Bulgarian Startup and Innovation Ecosystem You Need To Know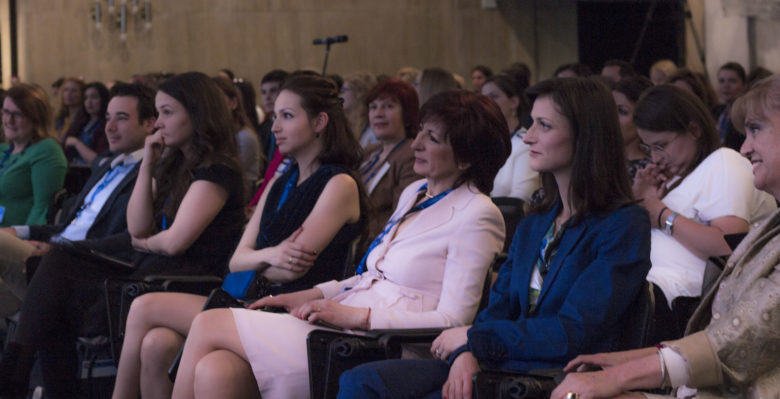 "Compared to other industries, the tech sector is still relatively young and doesn't carry the burden of legacy traditions. In my experience, it is not gender-biased, but instead, it's merit-driven, focused on one's own capabilities," Alexandra Mechkova, CEO of Telerik Academy, says. Mechkova comes from a liberal arts education and marketing background and has no formal education in technology, yet she has been working in the IT sector for close to 15 years and now leads the private tech talent academy.
There are many numbers regarding women in tech, engineering, and startup sector one could quote depending on their hypothesis. We chose one that has representativeness – women accounted for 26.5 % of ICT specialists in Bulgaria in 2017. This is the highest score across the EU. We found another interesting piece of data as well: only 2% of the companies are founded entirely by women, and 20% have a female co-founder, stats the latest report by EDIT.  Our observation, however not backed by any data, is that women are rather the business development engines in tech companies, regardless of the fact that some of them come from engineering backgrounds and others did not have any technology experience in previous careers.
"I think that the tech industry needs to diversify the ways software is being developed. Nowadays we are so dependent on technology that it's truly important to involve as many different points of view as possible", Sophia Lyateva, Women Techmakers Lead, says. She comes from a PR and communications background but got excited by the tech sphere some five years ago.
Yes, there's no data on how many women are indeed working in the tech and startup sphere, but we collected as many stories as possible. Below you can find 42 stories of female founders, investors, community builders, and leaders.
The female founders of Bulgaria
"Very often, not always, of course, ventures started by women have a social impact element", says Maya Zlatanova, founder of FindMeCure, an online platform allowing everyone struggling with a medical condition to access treatments in development. Alongside with her two mail cofounders, one of them – her husband, Zlatanova trying to attract $420K funding, get accepted in Techstars Accelerator in London, and helped over 2K patients to find treatments. "I indeed think it all about the skills, experience, and patience, and has nothing to do with gender nowadays. Generally, I don't like speaking of female founders and male founders – the more we diversify by gender, the more one looks like an exception", Zlatanova says.
"For me, it all started as a cause and the tech and business model came later", Iva Gumnishka, founder of Human in the Loop, shares. Her company provides training and testing data for machine learning solutions. The special thing about it is the fact that it actually trains refugees to process the data. "Even though I am a woman, young and had nothing to do with technologies before I started my company, I've never experienced disrespect and I've already worked with most of the IT companies in Bulgaria", says Gumnishka. According to her, there are enough female founders and role models in Bulgaria to look up to.
After a cancer diagnosis, Boryana Gerasimova changed her career path – from IT specialist to co-found her first healthcare startup NutriGen. She is now running her second venture – Re: Gena, another personalized medicine company, targeting early prevention of lifestyle-related diseases.  Gergana Stancheva and Angela Ivanova have developed a biodegradable laminating film to make the printing industry more eco-friendly. Their company Lam'on is already testing the product and has its pilot clients. Lubomila Jordanova started Plan A, a data-driven platform that contributes to the fight against climate change. Six years ago, together with four other male enthusiasts, Rositsa Mitova started Farmhopping, an online market for farm products that already works with over a hundred Bulgarian farms. 
Of course, the female-founded and led ventures in Bulgaria are not only in the sustainability domain.
For example, Propy – a blockchain platform for real estate that has attracted over $15M venture capital in the US, was founded by Tatyana Karayaneva. Tatyana Mitkova co-founded ClaimCompass, a platform that helps people claim compensations in cases of delayed or canceled flights, while she was a student in Berlin. The startup was later invited to TechStars accelerator in the US and has so far received $1.8M of investments. Elena Nikolova is co-founder and CEO of Escreo, a company that turns walls into whiteboards through an innovative paint. Svetla Simidchieva and Ekaterina Mihaylova founded Maj.io, which develops AI solutions for talent acquisition in the IT sector. Yana Vlatchkova co-founded Swipes, which first developed a task management software and has recently launched a collaboration tool for tech product teams in the US. After a long career in hospitality, Elitsa Stoilova came back to Bulgaria in 2017 and started a chatbot company called Umni.co and attracted its first investment from a Canadian fund.  Galia Jordanova is the co-founder of Gaida.ai, a data science startup in the real estate sector. Last year, Eva Vucheva, former co-CEO of Fashion Days and Boryana Uzunova, launched Kool & Konscious, a sustainable fashion startup. Another fashion startup – La Koketa App – was also launched by two female co-founders – Gergana Krusteva and Tanya Tasheva.  Two female co-founders features also the social inclusion platform Jamba, led by  Iva Tsolova and Joana Koleva. After a career in politics and NGOs Pavlina Dzhartova, joined AI developer HyperAsect, shortly after it was founded, and leads its business development and product line. 
Do female VCs have a different approach?
"Difficult to say whether male and female VC invest differently. We make our investment decisions at BrightCap unanimously (we have two female and two male partners) and I haven't noticed a gender division. Maybe we pay more attention to the soft side", says Elina Halatcheva from one of the newest funds in Bulgaria BrightCap. The other female partner is Diana Stefanova, also known as the Managing Director of VMware Bulgaria. All her previous roles in investment banking, research of e-commerce and technology start-ups, private equity, led her to initiate the new fund. Halatcheva shares she doesn't pay attention to the fact that she is women in a male-dominated sphere and has chosen to focus on "building skills and competencies rather than fighting ghosts".
"I think it's important to promote the investment culture among women", says Sasha Bezuhanova. She moved on to diverse activities supporting the innovation and digital economy after a long international corporate career in HP. Bezuhanova is an active mentor, angel investor in seven startups, a limited partner in four funds, member of a European female business angels network and founder of the Bulgarian Center for Women in Technology. She believes female entrepreneurs should be supported from a young age and has initiated Entrepregirl- a contest for young entrepreneurs between 16 and 25. Bezuhanova is cautious in drawing lines between male and female VCs, but also observes some trends: "First of all, women investors put more effort into mentoring on corporate culture and working environment. When reviewing companies they also value the social impact of a company higher than men who are traditionally looking rather at the numbers".
Indeed, there are not many female investors in Bulgaria. One of the first publicly visible figures was Zlatolina Mukova, who joined one of the first local funds NEVEQ as managing partner in 2012. Prior to that Mukova has taken C-level corporate roles in the IT and financial sector. Last year, we also spotted Dessy Kovatcheva, who backed the local waste management startup CozZo, as an angel investor. To be honest, we haven't heard of other female investors. Maria Marinova, even though not an investor herself, is leading the Bulgarian Private Equity and Venture Capital Association.
The support infrastructure and communities
Almost four years ago, the local chapter of Founder Institute, the Silicon Valley pre-accelerator, launched a Sofia branch. Even though it has chapters in close to 200 cities, its second HQ is now being established in Sofia and will be led by Janet Todorova. Todorova is a well-known figure in the ecosystem – she used to be a product manager in fintech company Paysafe, had run diverse startup initiatives, and co-founded CPC, the developers' bar in Sofia. Another lady with a role for the development of the startup ecosystem is Denitsa Simeonova, former CEO of the Association of Bulgarian Leaders and Entrepreneurs (ABLE), which is the Bulgarian co-organizer of the Central European Startup Awards. Kremena Dervenkova is the current CEO of ABLE. Petya Lipeva, the Chief Navigator of Puzl CoWorKing, manages the largest IT coworking in Bulgaria. 
"There's a need for female founder communities, but only with the purpose to share common challenges and weaknesses, and just talk to other women who also struggle balancing between businesses and family", Zlatanova states. "I always try to put in contact female leaders of different companies to communicate with each other and support each other", shares Sasha Bezuhanova. One such initiative is the SHEleader@digital 2020 conference happening on the 19th of March in Sofia.
"Our community participants come from various backgrounds and we strive to create a safe place for them to discuss and network with one another", explains Sophia Lyateva of Women Techmakers. The contest for young female entrepreneurs Entrepregirl, community initiatives such as Women Who Code, Coding Girls, and Women Techmakers are some of the initiatives in the sector. Rayna Stoykova leads the local chapter of Women Who Code, a series of events of female developers. Coding Girls in Sofia was initiated by Ana Radulovski. There are also female tech ambassadors like Evelina Prodanova, site manager of Uber, and Ani Koleva, of Leanplum Product Development.
Other women, who also play a significant role in the tech sector despite they are not directly involved in initiatives supporting other women are Maria Rashkovska, a senior product management consultant, and Heliana Velinova, the go-to person for anything related to the gaming sector in Bulgaria. The Bulgarian Fintech Association is also led by a woman – Gergana Stoichkova. Vesselina Markova and Rene Tomova are operationally leading the first two corporate acceleration programs in Bulgaria – the Visa Innovation Program and Sopharma's SOinveture, both facilitated by Eleven Ventures. Elina Zheleva is the founder of Designthinking.bg, the first design thinking agency in Bulgaria, that was acquired by the Berliner company Launchlabs, and is now growing in Sofia.  After many years as leaders of the Bulgarian furniture cluster, and achieving international successes under its brans Ligna, last year Genoveva Christova and Anelia Kasabova launched Missia23, a hub for creative tech industries in Sofia. Pavlina Yanakieva leads the Bulgaria Innovation Hub in Silicon Valley. In the past several years, Mihaela Savova has been organizing a series of igniting events called Leader Talks. The local chapter of the global entrepreneurial network Endeavor also has strong female touch represented by Irina Encheva and Dilyana Haralanova. And let's not forget Trending Topics Bulgaria is also led by ladies – the managing director Irina Obushtarova, and editorial lead Alexandra Kozbunarova. 
And let's not forget, the European Commissioner for Digital Society and Economy, Maria Gabriel, is also Bulgarian.
The soft side of the IT education
"Right now 20% of the students in our IT career training programs at Telerik Academy are women – twice as many compared to the Academy's earlier years. I don't think there are challenges for women who work in IT. The challenge is to attract women to the sector, which I think should start very early on", Mechkova explains.  There are, however, some positive indications in this direction as well – Telerik Academy School offers classes to children. According to her, girls now make up to 30% of the young students, in some classes even 40% – a tendency that will positively impact the sector in the long run. Half of her team and the trainers in the Academy are also women.
The corporate leaders
Some of the biggest tech brands in Bulgaria are also led by women. VMware's strategic R&D center for EMEA, located in Sofia, is headed by Diana Stefanova. After being a managing director for Bulgaria and SEE, Rumyana Trencheva is now responsible for the business development of SAP in Central and Eastern Europe. Elena Marinova is president of the growing in the region Musala Soft.
The two-card operators striving to position themselves as fintech leaders and tech companies – VISA and Mastercard, are also led by women. Vanya Manova is the country manager for Mastercard in Bulgaria and part of the western Balkans. Krasimira Raicheva manages VISA in Bulgaria.   
The balance
"It is always a matter of balance. Women might be more empathic and better in creating a corporate culture but are often control freaks. Men compensate with other qualities. But again, the complementarity of the skills in the core team matters, regardless of the gender", says Zlatanova. Nowadays, being part of the global economy, no one could stop you to prove your expertise and skills, regardless of the gender, she added.
Note that we tried our best to collect as many stories as we could, yet we know that a single article cannot say all. Let us know whom we've missed so we can update. And until then, we hope these stories serve as a bit of inspiration.