The 20 Most Trending Stories from the Bulgarian Startup Ecosystem in 2020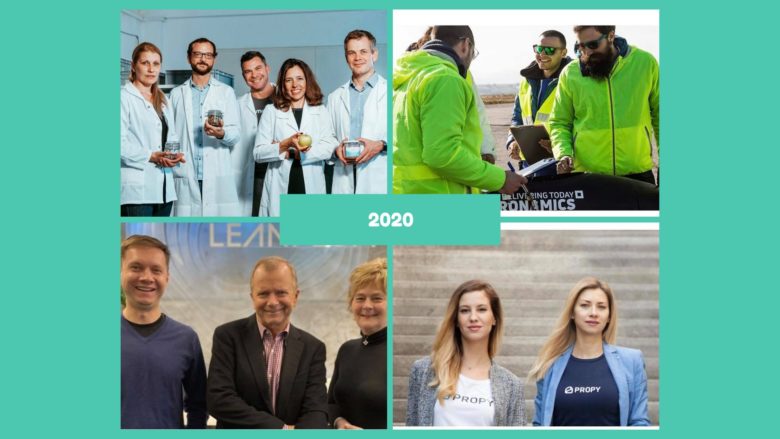 This year has definitely been different than expected, yet, despite the difficulties Bulgarian innovators had to overcome, the local entrepreneurial ecosystem achieved a number of successes. In the past twelve months, we witnessed some of the biggest exits and investments in the ecosystem history, as investors recognized the potential and entrepreneurial spirit of Bulgarian companies. 
During the first half of this year, we witnessed a lot of investment rounds, as well as several exits. The ecosystem was doing well until the lockdown happened, and left most businesspeople with tied hands. June and July brought an end to this stagnation as they were the busiest months for our entrepreneurial ecosystem, as the eased restrictions gave an opportunity for deals planned for the first quarter of the year to be closed. The second half of 2020 was more about introducing new products and services, as well as announcing strategic partnerships and major changes in the structure of companies. There is much more to catch up on with that we have prepared the 20 most viewed stories from this year!
The most trending stories
January
The Bulgarian provider of location-based marketing solutions Prospecto Group was acquired for an undisclosed amount by Offerista Group, a company with a similar offering, which, back then, reached 38.2 million consumers in Germany, Austria, and Switzerland. Both companies aimed to gain wider customer coverage as before the deal Prospecto Group had been supplying over 100 retailers from Central and Eastern Europe (CEE) with a wide range of tech-based marketing tools – for example, online brochures, push notifications, and advanced data segmentation. "By joining forces with Offerista Group we have the opportunity to expand in our main markets – Bulgaria, Romania, and Hungary. We aim to significantly grow our team in Sofia with sales, business development, and marketing professionals.," told us Oggy Popov, CEO at Prospecto Group.
The Bulgarian startup ChainSecurity, which started as a task group formed by researchers from ETH (indeed the second-best university for computer science globally, according to current rankings) to ensure that smart contracts are protected from cyberattacks, was acquired by one of the biggest Swiss audit and advisory companies – PwC Switzerland. With that, the foreign company hoped to become the world's leading provider of blockchain Smart Contract Assurance. This was a logical development in the startup story, as, at the beginning of 2019, Prof. Martin Vechev, Dr. Petar Tsankov, and their team who founded the Bulgarian tech startup signaled for and thus prevented a security flaw in a planned software update to Ethereum, the biggest blockchain platform. If this hadn't happened, after the update the system could have provided attackers with a loophole in the code to steal user funds all over the world.
January marked several notable exits for the Bulgarian entrepreneurial ecosystem, with one of the first companies that closed their deals being SMSBump. The startup which is famous for its text marketing and automation app for eCommerce store owners was acquired by the US-Israeli e-commerce marketing company Yotpo for an undisclosed sum of that was reported by Crunchbase to be $35M. This was marked as the biggest acquisition of a startup infused only with Bulgarian venture capital. This was not the only success for SMSBump, who continued working from Sofia and under their own brand. In August, Yotpo raised a new investment round of $75M, which it used to boost the development of its offices, including the one in Sofia. For SMSBump, this was the green light for more ambitious goals and team strengthening.
February
In February, mobile customer engagement company Leanplum announced that it has raised another $27 million in an extension of its $47 million Series D round from 2017. The additional financing brought the total funding for the late-stage startup to $125 million and was used to boost Leanplum's product development and market expansion efforts. The changes for the company continued at the operational level, as Leanplum welcomed a new CEO – George Garick, who has more than 20 years of top-level experience in Silicon Valley and has participated in five exits, including one IPO (Flycast Communications in 1999). Nonetheless, Sofia continued to be Leanplum's technical headquarters and the city in which the company operates while trying to achieve its mission "to redefine the marketing cloud at scale."
In February, the Bulgarian startup focused on eco-material innovation Biomyc announced a partnership with the Production Planning and Research Departments of Mercedes-Benz aimed at developing parts made from eco-friendly materials. The startup had to compete with 1000 other companies that had project ideas on sustainable vehicle production. Biomyc's idea featured the development of a mutilation cover from sustainable materials, to be used in car production. The problem the company solved was connected to the fact that mutilation covers, parts used in assembly when equipment is mounted, had until then been made of standard plastic material with the design, prototyping, production, and delivery of such parts taking a very long-time. To tackle this, Biomyc chose to produce these parts using 3D printable, engineering-grade, industrially compostable, plant-based plastic with recycled content, and its manufacturing strategy the startup made the production and design processes 4x faster.
March
Around a year after it signed a contract with their major limited partner – the governmental Fund of Funds, the early-stage fund New Vision 3, a successor of one of the first VCs in Bulgaria – NEVEQ, announced its first three investments – all in fintech. NV3 which is led by Zlatolina Mukova and Konstantin Petrov invested €1M in fintech group Paynetics. This was good news for the company, having in mind that it closed a round of €2.45M led by BACB. NV3 was the lead investor in the rounds of Phyre and Phos. Phyre which offers a digital wallet that features mobile payments, digital loyalty cards, peer-to-peer payments, and allows users to pay contactless via smartphone, raised €1.55M and NV3 participates with €500K. The fund led Phos's €1.2M round, investing €1M in the company. Officially started in 2018, Phos offers a technology that aims to help small and mid-sized merchants to easily offer contactless payments to their clients.
Back in March, less than two years after its start, the Bulgarian fintech startup Payhawk picked up one of the largest seed rounds the region had seen by raising €3M. Then, the corporate expense management startup also announced its plans to expand to Europe with Germany being the first target and to heavily invest in marketing and team growth. This was followed by a strategic partnership with digital payments company Visa and the German payment provider Wirecard dating back to mid-June, which aimed to offer debit cards to companies in 13 European countries. The expense management startup remained active until the very end of 2020, as it announced the launch of its company cards in November.
June
Hyperscience, a document processing startup that was originally founded in Bulgaria, announced in June a $60M round C backed by one of the oldest VC firms in the US – Bessemer Venture Partners.In October, the originally founded in Bulgaria AI document processing scaleup attracted a new portion of significant funding – $80 million Series D investment led by Tiger Global and joined by BOND, the VC firm headed by Mary Meeker, previously a partner at Kleiner Perkins. Hyperscience's total funding came to $190 million. Hyperscience stated that this new achievement comes in the light 3x Year-over-Year (YoY) revenue growth, accompanied by a 10x increase in platform usage. The financial injections were planned to be used for the development of the Hyperscience platform, build-out of a partner ecosystem, and further international expansion.  
The governmental Fund of Funds officially signed its contract with Vitosha Venture Partners, the third new early-stage investor in Bulgaria this summer. The new VC was given the responsibility to manage  €18.2m of public funding and around €1.2m private capital, and invest in over 100 ventures in the next four years. Although it was set to invest in Bulgarian legal entities only, the international team and their network suggested that they will be looking at companies from the whole region. Some five months later, Vitosha Venture Partners also launched their accelerator program. 
Healee, the telehealth platform of Telerik's fourth cofounder – Hristo Kosev, saw significant growth in 2020 – from around 500 doctors in February, to 1200 doctors and close to eight times more consultations reaching a total number of 7.8K at the end of May. And this naturally attracted investors' interest. At the beginning of June, Healee announces its first external investment. The startup raised €800K in a round led by Eleven Ventures, and joined by Hristo Hristov's HR Capital, to continue expanding its market share in Bulgaria, and also in the UK and the US where Healee has recently started gaining traction. "We decided to open up the cap table because we needed guidance, strategic support, and advisors. As for the capital itself – it will be used for growth," tells us Josif Dishliev, Healee's co-founder.
In this interview for Trending Topics SEE, Thelen spoke about the factors that made him invest in EnduroSat and the role of his deep tech fund Freigeist Capital in the future development of the Bulgarian company. How big is EnduroSat's long-term potential and how far can the team go? Why are 10x mindset and first-principle thinking important? Thelen answered to all these questions and shared his mindset for deep tech, ROI, and being a TV personality
July
Marked as one of the most significant funding rounds in Central and Eastern Europe this summer, Nasekomo's €4M newly raised capital came from the Bulgarian VCs Morningside Hill and New Vision 3 as well as another around 20 international private investors. The startup upscales organic waste streams from the agro-industry into animal feed by harnessing the power of the fly larvae, thus creating unique solutions for the market. As noted by scientists, insect protein may become a crucial part of human lives with the deepening sustainability crisis that is already a fact. There is a demand for 3-5M tons of such protein annually in the next ten years Nasekomo's plans include developing its product lines with the help of robotics and data analytics.
Rohlik.cz, the biggest online retailer in The Czech Republic announced that it has invested one million euros in its Bulgarian counterpart, saying that there is even a consideration for a complete acquisition in the long-term. It turned out that the size of the investment is €500k in exchange for 4.96% in equity and there is an option for another €500k in case eBag needs additional external capital on its growth journey. This put eBag's post-money valuation north of €10m. In October, eBag achieved another success as it expanded outside Sofia for the first time by launching its services to Plovdiv.
After over two years in R&D, the Bulgarian early-stage startup working on foldable packaging technology successfully ran its crowdfunding campaign on Kickstarter as it reached its fundraising goal of over €100k in less than four hours with nearly 2400 backers. 
"The DiFOLD Origami Bottle saves you space and can go wherever you go. It fits the life you live, not the other way around. We aim to create a new perspective on packaging. If we build a community of end-users who want to send single-use plastics into retirement, this will also attract B2B customers," said Radina Popova, one of the two co-founders at Difold. 
After gaining traction as a smart devices company in the tracking and home automation fields, Allterco is now entering a third vertical – medical IoT and telehealth. In June, Allterco received certification for its kids' thermometer Mycki that allows parents to track the temperature of their kids in real time and receive alerts in case it rises above the norm. The company also developed a small oximeter that measures the saturation of oxygen in the blood and transmitting directly the data to doctors. In order to continue developing in the sphere, Allterco planned to raise additional up to €4.5 to further grow. The prospectus was approved by the Financial Supervision Commission and was also updated allowing German and Italian investors to participate too.
September
In September, DeepCode, an advanced AI-powered platform for code analysis spun off by ETH Zurich and developed by a team of Bulgarian founders, was acquired by Snyk, a company valued at $2.6B whose platform enables developers to quickly fix security vulnerabilities. The financial terms of the agreement were not disclosed.  
For Snyk, which had recently closed a $200M Series D round and already had over 1.5M developers using their products, this was an opportunity to add next-generation AI capabilities to its portfolio and capture additional market share. The AI startup was also able to integrate its technology into existing Snyk products, thus moving closer to its original goal of impacting millions of users worldwide. 
Another interview we had was with Hans van Houwelingen who comes with over 20 years of experience in the investment management industry and is best known locally as a director with Telelink Holdings and his Chairman role in Telelink Business Services. As, back then, it became clear that he will be the one leading Urban Impact Venture, we talked to him and covered pretty much everything one needs to know about the philosophy and upcoming plans of the smart city and impact investing-oriented VC firm. Some of the topics discussed included the status of Urban Impact Ventures, its investment strategy, plans for limited partners and the VC's long-term vision. We also covered what needs to happen before the urban tech ecosystem in Bulgaria reaches the next level and the reason why it is important for smart city solutions to reach smaller cities. 
October
After two and a half years in the making, a unique for Bulgaria venture capital fund is launching in the fall of 2020. Started by some of the people behind CEO Angels Club, the largest angel investment club in the country, Sofia Angels Ventures gets half of its capital (€13m) from the European Investment Fund and its managing partners Milen Ivanov, George Sidjimkov and Grigori Grigorov. The interesting part is that another €13m will have to be matched by angels on a deal level, making the total investment capacity of the fund come to €26m. The fund will be sector-agnostic and focused on seed-stage startups. Ticket sizes range from €200k to €500k all the way to €1m for follow-on investments. In total, there should be around 30 deals happening over the next 5 years. 
It's not every day a startup developed in Bulgaria receives an investment from a top-tier Silicon Valley venture capitalist. It's also been a rare occurrence for companies to do an initial coin offering and actually gain traction in the market, yet, the based between Silicon Valley and Sofia proptech startup Propy can now say that it has checked both boxes. The company, which has built a blockchain-based platform to simplify real estate transactions and minimize fraudulent deals, received undisclosed funding from Tim Draper, one of the most iconic VC investors in Silicon Valley. Draper, a supporter of bitcoin and decentralization, is famous for his early investments in companies like Tesla, Skype, Robinhood, Twitter, and Coindesk. In his portfolio, one can also find SpaceX, AngelList, Hotmail, Baidu, and..okay, Theranos. "The timing could not be more perfect, with Propy polishing a unique and complex product and, as a result, has driven over $400m in real estate transaction volume so far in 2020," read an official statement by Propy.
After closing a €2.45M investment round back in March, the e-money provider announced the purchase of Wirecard UK and Ireland's corporate card portfolio which would have otherwise faced termination. In practice, this acquisition means that the corporate card programs of Wirecard UK and Ireland now continue to exist. There was also a transition to Paynetics' payment infrastructure as well as card issuing and payment services. As part of the deal, Paynetics powers a range of corporate programs for its new customers, including employee benefits, sales incentives, corporate expenses and social welfare initiatives. To support the new bigger presence in the UK, Paynetics also appointed Mike Peplow as a CEO for the region. Paynetics co-founders Valeri Valtchev and Ivo Gueorgiev also saw their other two fintech ventures Phos and Phyre raise €1.2M and €1.55M respectively.  In addition, Phos expanded a partnership with Mastercard to 12 European countries, a project focused on enabling small businesses to accept contactless payments on Android devices with no need for any additional hardware.
December
Innovation in transportation technologies won another victory as, in the beginning of December, Dronamics, the Bulgarian middle-mile cargo drone developer and operator, announced the world's first cargo droneport network, presenting partnerships with five airports in Europe – located in Belgium, Croatia, Finland, Italy, and Sweden. The launch of the network happened at a pivotal moment for the drone delivery industry in Europe with the EU's first unified drone regulations set to kick-in on January 1st, 2021. The next three big milestones for the Dronamics team will be to complete the full-scale version of its cargo drone, successfully go through ground and in-flight tests, and, of course, launch its first commercial flights. Dronamics is now preparing for the necessary certification under the new rules, aiming to obtain operational authorization by the end of 2021 with the first commercial flights of same-day drone cargo services expected to begin in early 2022.